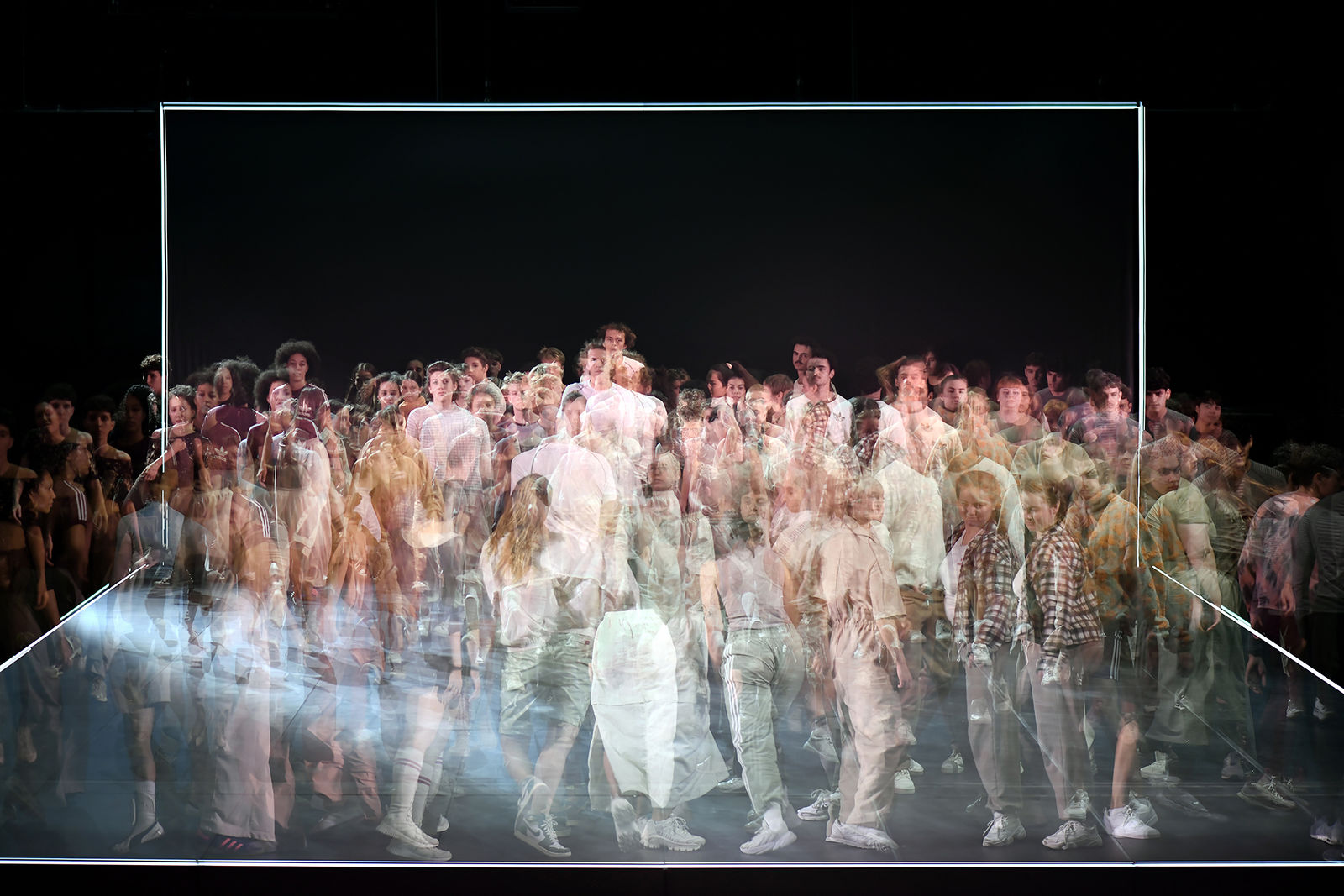 jetzt, jetzt, jetzt
By Yunus Ersoy, Suna Gürler, Lucien Haug, Alina Immoos & Ensemble
Staging: Suna Gürler
100% Anfang
99% Ende
199% Veränderung
A human being enters the stage. And now?
.
.
.
After the mission to premiere contemporary Swiss authors, Suna Gürler now turns her attention to her future bosses. While it is unclear what the future holds for the Schauspielhaus Zürich, one thing remains certain: A network of young people. Be it through work in the cloakroom or a youth club, Gürler's other productions or the Offene Bühne [Open Stage], the Theaterjahr [Theatre Year] or Instagram – they have all connected with the Schauspielhaus in recent years and will not be turning their backs on the theatre any time soon. For this play, 30 of them form the ensemble.
For jetzt, jetzt, jetzt, director Suna Gürler continues her long-standing collaboration with Lucien Haug; Alina Immoos and Yunus Ersoy join the team for the current production. Together with the ensemble, they create an evening that shows the hustle and bustle of individual goals, shared desires and contradictory concerns. Just like the Pfauen – which originated as a beer garden and has become a municipal theatre – the team of jetzt, jetzt, jetzt asks the question of how a beginning becomes a network and what this network can actually create.
Link to the digital programme booklet
Staging

Concept

Stage and Costume Design

Moïra Gilliéron / Cleo Niemeyer-Nasser

Music

Singoh Nketia

Choreography & Rehearsals

Text

Light

Michel Güntert

Artistic Collaboration Video

Robin Nidecker

Dramaturgy
Show all contributers
Audience Development

Tali Furrer

Artistic Mediation T&S

Zora Maag / Alina Immoos

Production Manager

Rosa Stehle / Jonas Junker

Production Assistance

Carlotta Späni / Wilma Schapp / Dominic Schibli

Stage Design Assistance

Costume Design Assistance

Costume Design Intern

Melvin Tobler / Sally Ndiaye

Stage Manager

Eva Willenegger
Show less contributers
The young programme is supported by Max Kohler Stiftung, Elisabeth Weber-Stiftung, Stiftung Accentus and Landis & Gyr Stiftung
The rights to the play belong to the authors. Lucien Haug is represented by S. Fischer Verlag, Frankfurt am Main
ca.90 min
Premiere: 28. September 2023, Pfauen
Also interesting for ages 14 and up
🛈 Introduction 30 min before the play on 2.10., 6.10., 21.10., 25.10. and 17.11.
Einführung: Yunus Ersoy, Dramaturgie
Image gallery & Videos