Gesellschaft der
Freunde des
Schauspielhauses
If you have always wanted to discover our theatre's hidden places and get to know who works here, then join the Society of Friends of the Schauspielhaus. This gives you access to the exciting world behind the scenes.
What can you expect as a member of the Friends of the Schauspielhaus?
Regular backstage theatre visits: to the rehearsal stage, painting workshop, make-up department or canteen – everywhere that theatre takes place. This includes visits to rehearsals, guided tours of the house and talks with employees and artists. Rather than hear how a performance is created, you can actually experience it.
An exclusive theatre trip with like-minded companions to one of Europe's cultural hubs.
Preferential conditions for ticket reservations: our members are able to order their tickets two days before they officially go on sale, as well as receiving a 20% discount on all tickets (excluding premieres and guest performances).
Membership
Junior (up to 25): 50.–
Individual membership: 200.–
Couple membership: 300.–
Individual membership for benefactors: 600.–
Couple membership for benefactors: 900.–
Corporate membership: 2000.–
*All prices in Swiss francs / per year
Contact
To become a Friend of the Schauspielhaus, send an email to freunde@schauspielhaus.ch detailing the type of membership you have chosen and your contact details.
Gesellschaft der Freunde des Schauspielhauses
Meret Mendelin
Zeltweg 5
CH 8032 Zürich
Tel +41 44 258 72 06
The office is open on Wednesdays from 2 p.m. to 6 p.m.
---
Upcoming events
gfs-trip to Munich
The gfs trip will be postponed to October 2020. More information will follow.
---
Board
Nicole Müller (President)
Barbara Pung (Vice President)
Bruno Ammann
Annette Ringier (†)
Sandra Vollenwyder
Pascal Willen
Brigit Wiesmann
Peter Hüttenmoser (ex officio Schauspielhaus)
Goldene Maske
Every year since 1995 the Friends of the Schauspielhaus have awarded the «Goldenen Masken » prize, a reputable honour for special services on and behind the stage.
To date the award-winners have been:
2019
On stage:
Lena Schwarz, actress
Laudatio von Michael Neuenschwander

Hinter der Bühne:
Sandra Caviezel, Leiterin Ankleidedienst
Laudatio Dirk Wauschkuhn

Rede von Nicole Müller,
Präsidentin der Gesellschaft der Freunde des Schauspielhauses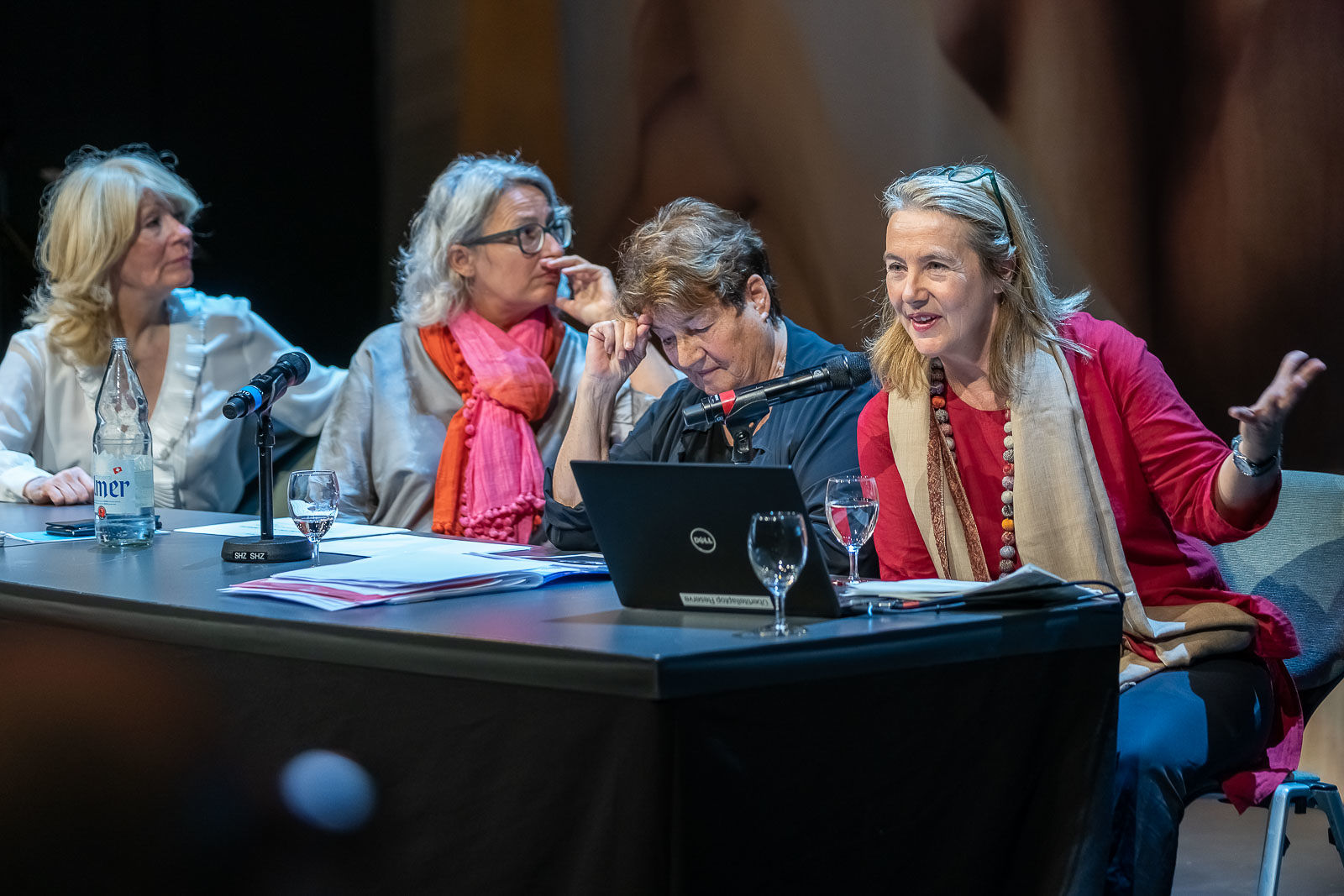 2018
On stage:
Gottfried Breitfuss, actor
Laudatory speech by Ernst Konarek
Backstage:
Andi A. Müller, video expert
Laudatory speech by Dirk Wauschkuhn

Platinum Mask:
Barbara Frey, theatre director and intendant
Laudatory speech by Fritz Hauser
2017
On stage:
Claudius Körber, actor
Laudatory speech by Friederike Wagner
Backstage:
Christine Rippmann, theatre sculptor
Laudatory speech by Thomas Unseld and Mervyn Millar

Speech by Nicole Müller, President of the Society of Friends of the Schauspielhaus
2016
On stage:
Miriam Maertens, actress
Laudatory speech by Michael Neuenschwander
Backstage:
Maurizio Bello, menswear tailor
Laudatory speech Siggi Schwientek

Speech by Nicole Müller, President of the Society of Friends of the Schauspielhaus
2015
On stage:
Isabelle Menke, actress
Laudatory speech by Matthias Neukirch
Backstage:
Christoph Finé Renfer, Deputy Head of Sound / Video Department
Laudatory speech by Ruedi Häusermann

Speech by Peter Haerle, Director of the Culture Department of the City of Zurich
Speech by Nicole Müller, President of the Society of Friends of the Schauspielhaus
2014
Backstage:
Petra Fischer, Director of the Junges Schauspielhaus
Commendation: Philippe Besson
Backstage:
Aleksandar Sascha Dinevski
Commendation: Ludwig Boettger, Ruedi Schuler
2013
On stage:
Michael Neuenschwander, actor
Commendation: Dušan David Pařízek
Backstage:
Robert Zähringer, Head of Foyer / Reception
Commendation: Tom Till
2012
On stage:
Friederike Wagner, actress
Commendation: Robert Hunger-Bühler
Backstage:
Thomas Unseld, Director of the Painting Workshop
Commendation: Bettina Meyer, Dirk Wauschkuhn
2011
On stage:
Markus Scheumann, actor
Commendation: Thomas Jonigk
Backstage:
Gerlinde Uhlig Vanet, prompter
Commendation: Tom Till
2010
On stage:
Bettina Meyer, set decorator
Commendation: Barbara Frey
Backstage:
Martin Caflisch, construction
Commendation: Albert Brägger
2009
On stage:
Robert Hunger-Bühler, actor
Commendation: Roland Koberg
Backstage:
Tina Kornfeld, marketing assistant
Commendation: Dirk Wauschkuhn
2008
On stage:
Niklaus Helbling, theatre director
Commendation: Marcus Kiepe
Backstage:
Hans Keller, stage painter
Commendation: Dirk Wauschkuhn
2007
On stage:
Siggi Schwientek, actor
Commendation: Andreas Erdmann
Backstage:
Kurt Spahr, bookkeeper
Commendation: Barbara Ballini
2006
On stage:
Tomas Flachs Nobrega, actor
Commendation: Lina Beckmann, Cathérine Seifert
Backstage:
Barbara Ballini, assistant manager
Commendation: Dr. Herbert Pfortmüller, dr. Brigitte von der Crone, Marc Baumann
2005
On stage:
Meike Droste, actress
Commendation: Andreas Erdmann
Backstage:
Walter Milan, head of in-house technical services
Commendation: Marc Baumann
2004
On stage:
Meg Stuart, choreographer
Stefan Pucher, theatre director
Commendation: Nikola Weisse
Backstage:
Edi and Rosmarie Schmid, managers of the canteen in the Pfauen venue
Commendation: Jean-Pierre Cornu
2003
On stage:
Jürg Kienberger, actor
Commendation: Ueli Jäggi
Backstage:
Irene Herbst, stage manager
Commendation: André Jung
2002
On stage:
Sebastian Rudolph, actor
Commendation: Falk Richter
Backstage:
Rudolf Rath, Artistic Operations Office and extras
Commendation: Peter Arens
2001
On stage:
André Jung, actor
Commendation: Christoph Marthaler
Backstage:
Ingrid Hug, cloakroom and foyer manager
Commendation: Ernst Bieri
2000
On stage:
Ludwig Boettger, actor
Commendation: Katja Früh
Backstage:
Erich Müller, head of make-up
Commendation: André Jung
1999
On stage:
Burghart Klaussner, actor
Commendation: Werner Düggelin
Backstage:
Hans Fick, stage manager
Commendation: Werner Düggelin
1998
On stage:
Jürgen Cziesla, actor
Commendation: Werner Düggelin
Backstage:
Marianne Korn, Artistic Operations Office
Commendation: Marcel Müller
1997
On stage:
Annemarie Kuster, actress
Commendation: Reinhard Stumm
Backstage:
Angelo Rosenfelder, stage manager
Commendation: Gerd Leo Kuck
1996
On stage:
Werner Düggelin, director
Commendation: Josef Estermann
Backstage:
Peter Peiker, Artistic Operations Manager
Commendation: Peter Arens
1995
On stage:
Hans Dieter Zeidler, actor
Backstage:
Peter Fischer, Technical Director