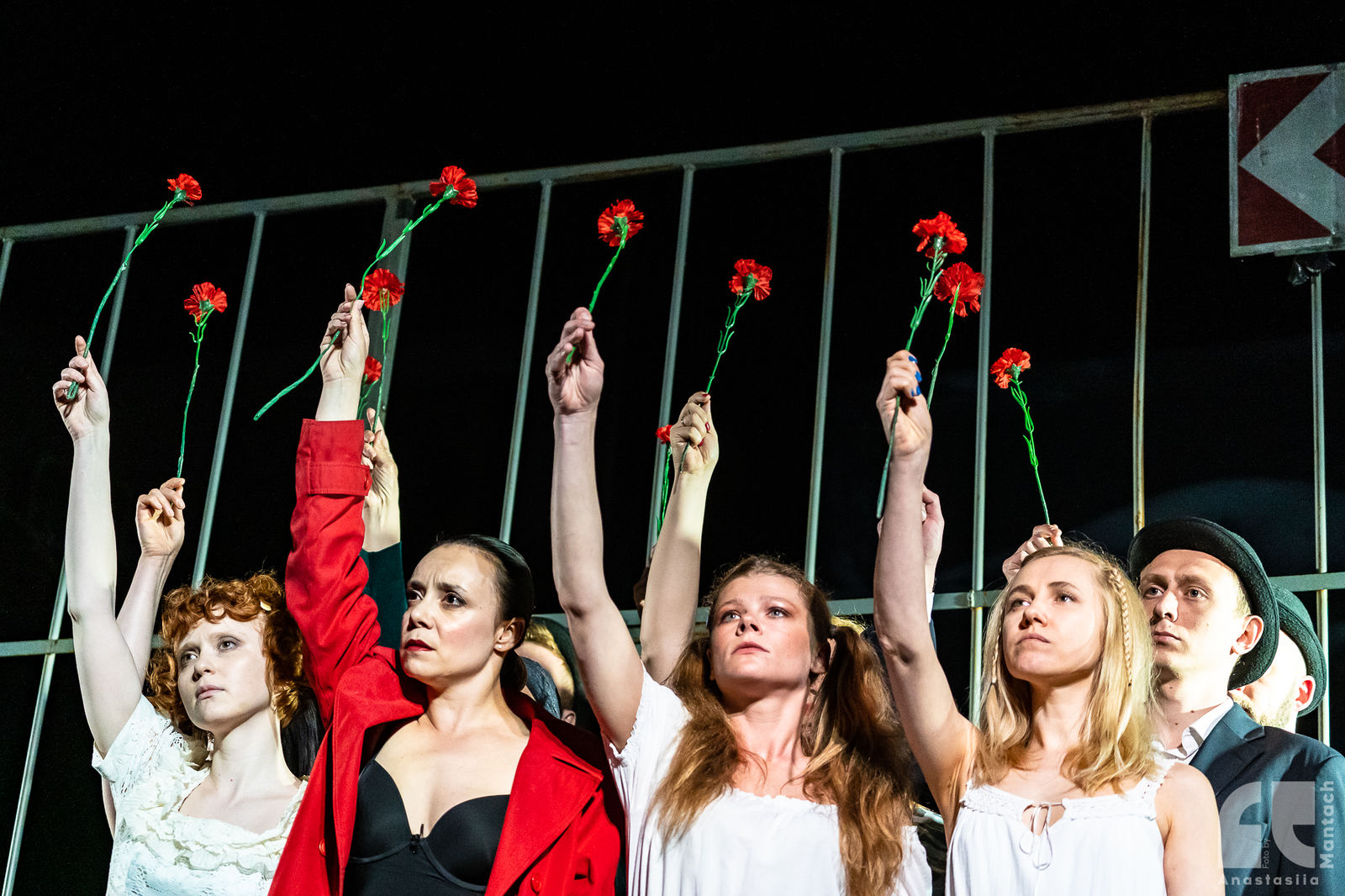 Bad Roads
Gastspiel des Left Bank Theatre
Von Natalia Vorozhbyt
​Inszenierung: Tamara Trunova
*** Trigger warning: This production contains depictions and representations of war, violence, discrimination and sexualised violence. ***
Bad Roads by the Ukrainian author Natalia Vorozhbyt is a play about life in war-torn Ukraine, about relationships between women and men, and the cracks that never heal. Before the artistic director of the Kyiv Left Bank Theatre Stas Zhyrkov stages his Antigone version at the Pfauen in May, Tamara Trunova, in-house director of his theatre, pre- sents her well-travelled production Bad Roads.
With Kateryna Kachan / Anastasiia Pustovit / Svitlana Shtanko / Dmytro Oliynyk / Dmytro Solovyov / Oleksandr Sokolov / Lesya Samaieva / Andriy Isaenko / Anastasiia Hlushchak / Maryna Klimova / Anastasiia Korol / Serhii Kyiashko
Staging

Tamara Trunova

Author

Natalka Vorozhbyt

Set Design

Yuriy Larionov

Costume Design

Khrystyna Korabelnykova

Music

Tamara Trunova / Akmal Gurezov

Producer

Tamara Trunova / Stas Zhyrkov / Volodymyr Sheyko
3h, with one break (20 minutes) included
Interesting for ages 18 and up
In Ukrainian with German surtitles
🛈 People with "protection status S" can reserve a free theatre ticket via mail to theaterkasse@schauspielhaus.ch.
Image gallery & Videos