Archive Archive Archive Archive Archive Archive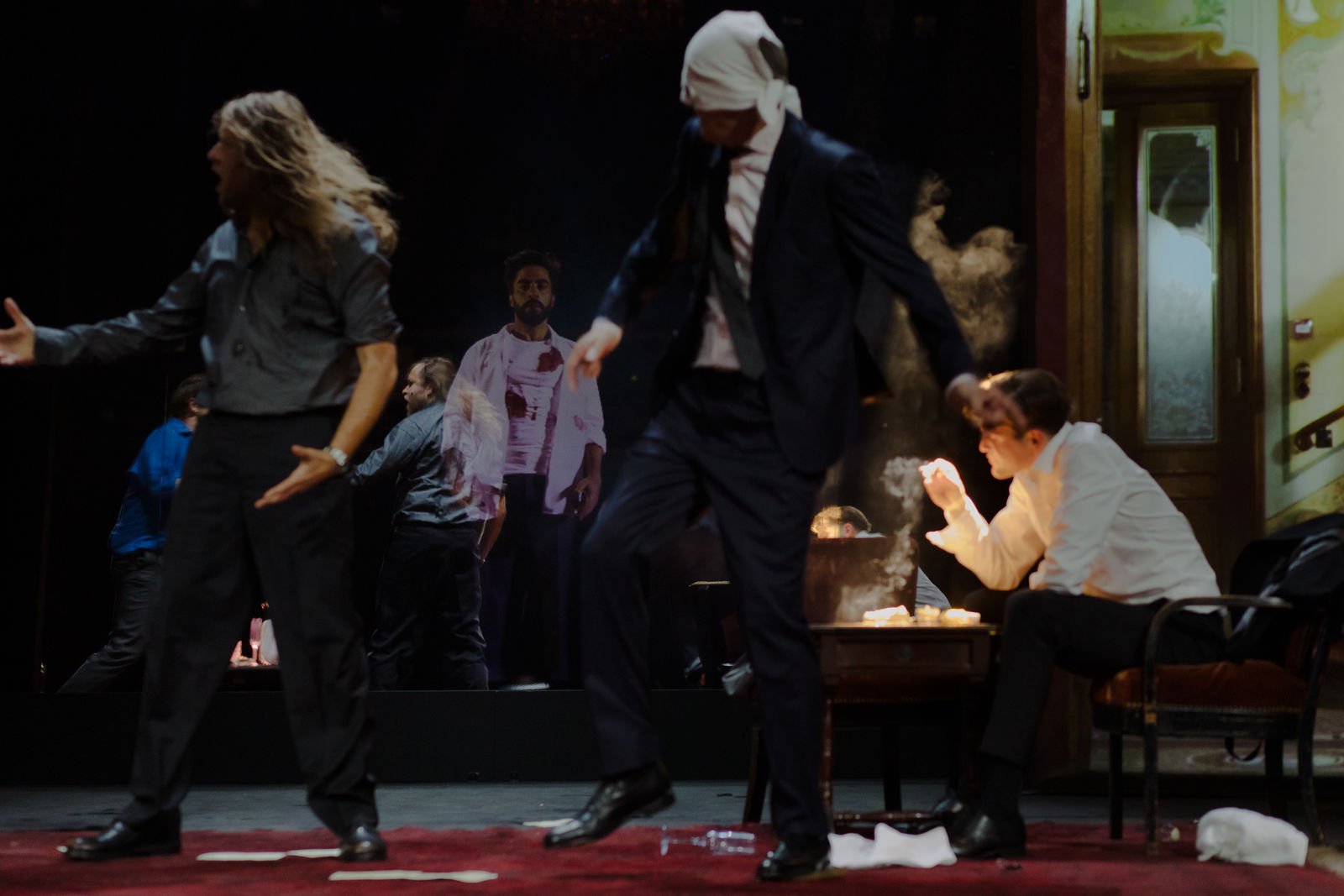 Before the Sky Falls
After Macbeth by William Shakespeare using the translation by Angela Schanelec
Staging: Christiane Jatahy
70% Shakespeare
30% Yanomami Cosmology
100% Prophecy
*** Golden Lion for Christiane Jatahy ***

Macbeth is the story of an ambitious tyrant at the heart of a network of macho men who are corrupt, violent and misogynistic. As such, Macbeth would appear to be the literary prototype of toxic masculinity, and his leadership a mirror for current authoritarian regimes all over the world. In Brazil, for example, which is the native country of Christiane Jatahy. In Before the Sky Falls, the director takes on the classic Shakespeare play, presenting us with men who are drunk on power and inclined to devour anything that seems weak, feminine or fragile… until the spirits of the Amazon summon the forest and fight back. Guided by the philosophy of the Yanomami, an indigenous people from the north of Brazil, Jatahy has the witches' oracle pervading Macbeth's sleep and the rainforest crowding the stage.
Known for her judicious blending of theatre and film, and familiar to Zurich audiences for previous works of hers performed at the Theaterspektakel, Christiane Jatahy is now coming to the Schauspielhaus to pursue her political theatre work with the house ensemble.
"Quite intimately, the Yanomani text combines with "Macbeth", Kodder's snout everyday talk with Shakespeare, at times introduced with a source note: "You say that in Act 3, Scene 5". Everything mixes in this phenomenal evening: video and live performance, historical and contemporary drama." (Valeria Heintges, Nachtkritik, 10/27/2021)
"Thanks to the stunning acting performances, we get into it, stay with it. Will we, in the end, have gone along for nearly two hours, hung along with this Macbeth and his men; this ruthless examination of what whores, lies, steals and murders inside us." (Alexandra Kedves, Tages-Anzeiger, 10/28/2021)
"Far-fetched it is not: the prophecy that Macbeth will not perish until the forest is upon him, linked with passages from Davi Kopenawa's book "The Falling Sky" becomes very concrete. The shaman, spokesman for the Yanomami people, talks there about the importance of the rainforest and the consequences of its destruction by gold prospectors, cattle ranchers, loggers." (Alexandra Kedves, Tages-Anzeiger, 10/28/2021)
"Grandiosely, Jatahy succeeds in accessing the Brazilian present with Shakespeare. The director even takes the Macbeth fable one painful turn further. Namely, when the men's clique elects a successor for the boss who has been destroyed in madness and schizophrenia - Malcolm is that in the original - someone comes to power who no longer even pretends to think politically: instead, only as a criminal, murderous monster." (Michael Laages, Deutschlandfunk Kultur, 10/27/2021)
Staging

Artistic Collaboration, Stage and Light Design

Thomas Walgrave

Costume

Music

Domenico Lancellotti

Director of Photography

Paulo Camacho

Video

Julio Parente

Technical Development

Marcelo Lipiani

Light Master

Frank Bittermann

Production Management

Henrique Mariano

Dramaturgy
Show all contributers
Audience Development

Theatre Pedagogy

Touring & International Relations

Björn Pätz

Production Assistance

Stage Assistiance

Karl Dietrich

Costume Assistance

Anna Michaelis / Miriam Schliehe

Direction Intern

Kaja Schranz

Stage Intern

Valeria Ballek

Costume Intern

Michelle Wanzenried

Inspection

Eva Willenegger

Soufflage

Rita von Horváth

Surtitle Setting

Anne Hirth PANTHEA

Surtitle Translation

Sinikka Weber

Surtitle Riders

Josephine Scheibe / Maya Scharf / Salome Bossard
Show less contributers
In cooperation with CULTURESCAPES 2021 Amazonas
♥ Affairs
Supported by Gesellschaft der Freunde des Schauspielhauses (gfs). In cooperation with Villa Patumbah. Christiane Jatahy is an associate artist of the Odéon-Théâtre de l'Europe, Centquatre-Paris, Schauspielhaus Zürich, Arts Emerson Boston and Piccolo Teatro de Milano. The company Vertice is sponsored by Direction régionale des affaires culturelles d'Île-de-France and Ministère de la Culture France.
1h50 (no interval)
Premiere: 27 October 2021
Also interesting for ages 16 and up
🛈 Introduction 30 minutes before the performance on 12.12. and 4.1.
In addition, all audio introductions can be found online on our Soundcloud account.
Introduction: Bendix Fesefeldt, Dramaturge
Image gallery & Videos