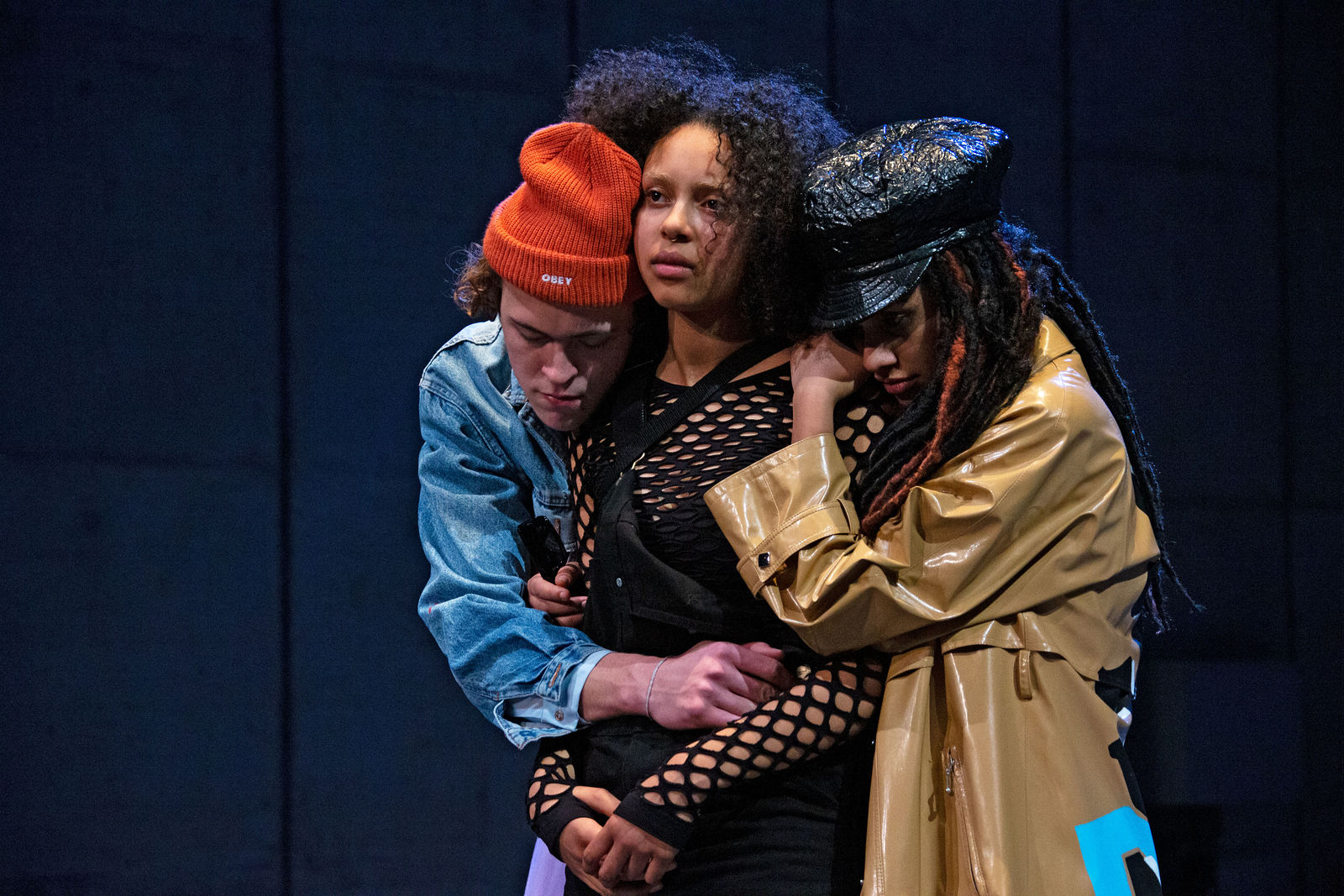 Bullestress
By Fatima Moumouni und Laurin Buser
Staging: Suna Gürler
70% Friendship Power
100% Studio Session
80% Swiss Mess
*** Content warning: This production contains verbal descriptions of racially motivated violence and revenge fantasies and can possibly have a retraumatising effect. We recommend the production for people aged 14 and over and offer accompanying workshops, introductions and follow-up discussions on the topic. The performance can be left at any time. ***
Astro, Ella, Damn, Nabil and Mari are a gang, a bubble, a band. They have just produced their first song and, sure, they swear: It's going to be a bomb. Unfortunately, another bomb hits first: a case of racist police violence in their immediate vicinity. None of the five is left cold by the incident, but their world is getting colder. How they all deal with the issue of racism divides the friends. But silence is not an option, especially when you have a few good beats in your bag and a lot to say anyway. But first of all, everyone has Bullestress. Even the cops themselves.
The new play by Fatima Moumouni and Laurin Buser is an activist coming-of-age story made and based in Switzerland, with a smooth sound and strong statements. Suna Gürler directs the play with five young people from here, for here, or us.
The racism-critical library
will be open before the start of each performance (7:00 pm) until after the performance (10:30 pm). The opening will take place on Tuesday, January 25, 2022, at 7 pm.
With Pauline Avognon, Moubarak Djibril, Samira Graf, Flynn Jost, Fayrouz Gabriel
Staging

Stage

Moïra Gilliéron

Costume design assistance

Sarah Seini, Ruth Wulffen

Music

Singoh Nketia

Lights

Michel Güntert

Antiracism coaching

Dramaturgy
Show all contributers
Audience Development

Theatre Pedagogy

Alina Amuri / Manuela Runge

Touring & International Relations

Björn Pätz

Production Assistance

Stage design assistance

Johanna Bajohr

Production Intern

Malik Sievi

Dramaturgy Intern

Carlotta Späni

Stage management

Eva Willenegger

Soufflage

János Stefan Buchwardt
Show less contributers
Supported by Max Kohler Stiftung, Ernst Göhner Stiftung, Landis & Gyr Stiftung and Elisabeth Weber Stiftung.
1h45, no break
World premiere: 21 January 2022, Schiffbau-Box
Schiffbau-Box
Also interesting for ages 14 and up
🛈 Für "zahlen, was man will" jetzt Karten reservieren per Telefon +41 44 258 77 77 oder per Mail an theaterkasse@schauspielhaus.ch
Data
Tuesday 25.01. 20:15 Schiffbau-Box
Wednesday 26.01. 20:15 Schiffbau-Box
Pay what you want
The Capsule
Thursday 27.01. 20:15 Schiffbau-Box
Saturday 29.01. 20:15 Schiffbau-Box
Schiffbau Subscription
The Capsule
Monday 31.01. 20:15 Schiffbau-Box
Theatre Monday
The Capsule
Wednesday 02.02. 20:15 Schiffbau-Box
Thursday 03.02. 20:15 Schiffbau-Box
Friday 04.02. 20:15 Schiffbau-Box
Tuesday 08.02. 20:15 Schiffbau-Box
Wednesday 09.02. 20:15 Schiffbau-Box
Thursday 10.02. 20:15 Schiffbau-Box
Image gallery & Videos