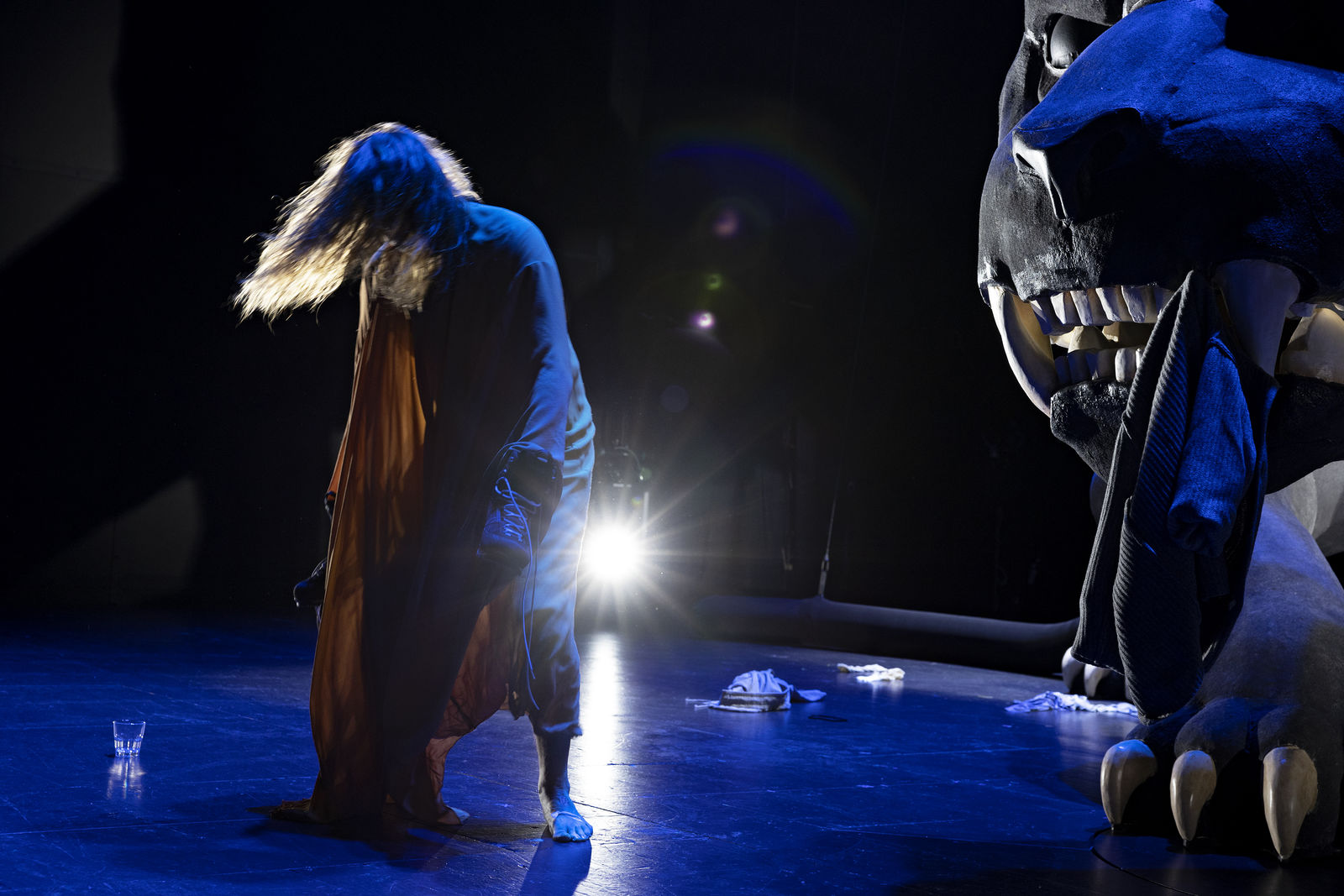 Schwestern
after Drei Schwestern by Anton Tschechow
Staging: Leonie Böhm
90% New Beginning
70% Radical Hope
100% Panther Power
"Get out of here" is the mantra of Chekhov's Drei Schwestern (three sisters) and their neighbors – yet, at the end of the play, no one leaves. In this version, Schwestern, however, only one person remains, left all alone.
With a refined concept that takes the play's ending to a new level, director Leonie Böhm and actor Lukas Vögler create a haunting monologue about leaving stale ways of life behind, as well as the power that lies dormant beneath one's own passivity. They search for that moment when a wound stokes the inner fire and sparks a new future beyond the assigned roles and preconceived feelings that we sometimes put on like sewing patterns.
Soufflage

János Stefan Buchwardt

Panther

Lia Cattaneo

Choir

Josef Böhm / Elia Brändli / Daniel Eschmann / Rahel Eschmann / Marianne Fischer / Martin Gross / Gregory Tara Hari / Manuel Herwig / Rafael Iten Tremp / Philip Neuberger / Julia Paris Haller / Marie Petelkau / Marie Popall / Louis Rast / Anina Steiner / Monika Stoisser / Lilli Unger / Leila Vidal-Sephiha / Alexander Wilms / Joachim Aeschlimann

Staging

Set Design

Sören Gerhardt

Costumes

Zahava Rodrigo

Music

Rehearsal Choir

Flurina Ruoss

Light

Gerhard Patzelt

Dramaturgy
Audience Development

Touring & International Relations

Sonja Hildebrandt

Production Assistant

Sarah-Maria Hemmerling

Costume Design Assistant

Sophia May

Production intern

Elisabeth Schüepp

Stage Manager

Aleksandar Sascha Dinevski

Singing introduction of the audience

Anina Steiner / Flurina Ruoss

Surtitle Riders & translation

PANTHEA

Surtitle Riders

Jakob Gerber

Surtitle Translation

Sinikka Weber / Naomi Boyce

Riders

Tom Luc / Victoria Engler / Maja Bakos
1h
Premiere: 21 January 2023
🛈 Introduction 30 min before the play on 19.5.