Archive Archive Archive Archive Archive Archive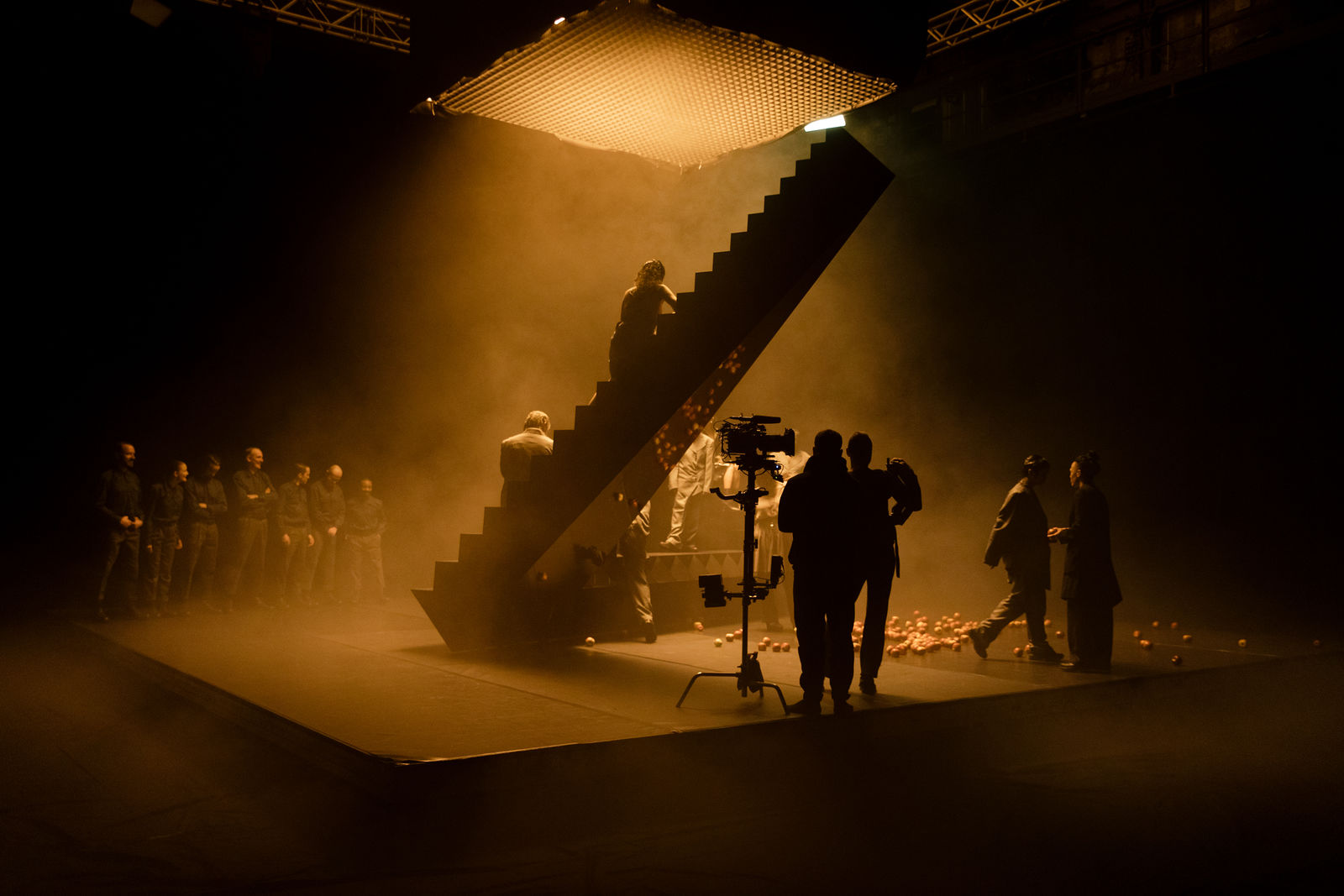 The Show's Over
Videoinstallation by Wu Tsang, Tosh Basco & Moved by the Motion
Wu Tsang's films unite documentary and narrative techniques with fantastical excursions into the imaginary, exploring hidden histories, marginalised narratives and the act of performance itself. In early March, she and Moved by the Motion made a film with the ensemble. Based on the poem come on, get it by Fred Moten and the Report from Occupied Territory by James Baldwin, the camera moves continuously between individual choreographies and movements and actions of the group, ranging from improvised music to ascents and descents on a Penrose triangle – a triangle that connects and separates the performers depending on their perspective. With Fred Moten's Poem, the film explores motifs of indivisibility, fluidity and watery land and mud, and investigates subterranean currents of resistance and the politics of (in)visibility. The film was made on the set of Composition III, a production at the Schiffbau that will never take place and whose prehistory can now be experienced at the Pfauen.
Schauspielhaus Zürich exhibits The Show's Over from 11 – 14 March in collaboration with Shedhalle and as part of the Shedhalle programme Proto-Club: We all move together, which gives space to the longing for the physical experience of music and shared movement.
With
Tosh Basco
,
Josh Johnson
,
Steven Sowah
,
Thelma Buabeng
,
Ondrej Vidlar
, Roderick George,
New Kyd
,
Songhay Toldon
,
Thomas Wodianka
,
Matthias Neukirch
,
Lena Schwarz
,
Gottfried Breitfuss
, Roeselare Ames,
Perle Palombe
,
Michael Neuenschwander
, Deborah Macauley,
Joshua Wicke
, Sara Mathiasson, Michèle Nussbaum
Film by

With

Tosh Basco, Moved by the Motion (Wu Tsang, Tosh Basco, Asma Maroof, Josh Johnson, Patrick Belaga)

Director of Photography, Cinematography

Antonio Cisneros

Original Score

And

Patrick Belaga, Kelsey Lu, Ahya Simone, Klein, Austin Williamson

Horns

Tapiwa Svosve, Nicola Habegger, Sandra Weiss

Dramaturgy

Production

Laura D'Incau, Joyce Keokham
Show all contributers
1st Assistant Camera

Natalie Wallrapp

2nd Assistant Camera

Christina Welter

3rd Assistant Camera

Isabelle Simmen

Steadycam

Andreas Pfiffner

Gaffer

Greg Amgwerd

Lighting

Sebastian Suter, Taffy Oyewusi, Till Schlatter

Sound Recording

Kurt Human

Stage Assistant

Natascha Leonie Simons, Elisabetta De Cave, Luca Büchler

Costumes

Kyle Luu

Wardrobe Assistant

Liv Senn

Costume Assistant

Eloïse Ise, Sara Ramsay, Tiziana Ramsauer, Andrea Röschli

Hair

Sara Mathiasson

Hair, Make-Up, SFX

Judith Janser, Simone Mayer, Lena Steiner, Tabea Schapira, Dana Hesse, Marion Loosli

Edited by

Wu Tsang, Anthony Valdez

Production Assistant

Maja Renn, Michèle Nussbaum

Intern

Deborah Macauley
Show less contributers
Supported by UBS Kulturstiftung and Luma Foundation
Co-Commissioned by Schauspielhaus Zürich & Lafayette Foundation
Film lenght: 30 min.
World premiere: 18 June 2020, Pfauen
Free admission, no registration required.
The film is shown in a loop. Always starting on the hour and half hour. The last screening starts at 22:30.
A maximum of 10 people per screening are allowed. Admission is via the Pfauen Foyer.
Masks are compulsory for all visitors aged 12 and over.