Archive Archive Archive Archive Archive Archive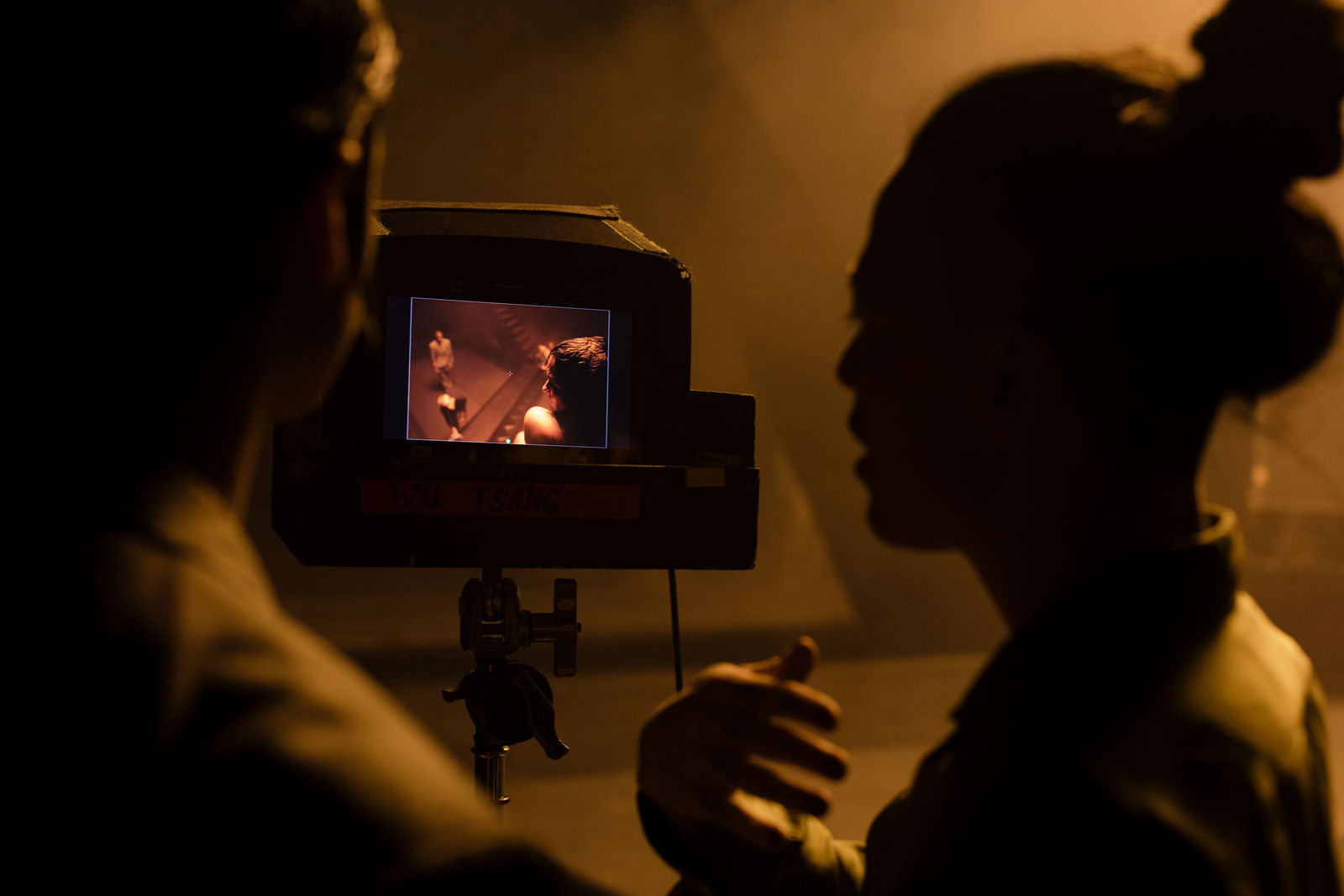 The Show's Over
Videoinstallation by Wu Tsang, Tosh Basco & Moved by the Motion
Wu Tsang's award-winning films combine documentary and narrative techniques with fantastic excursions into the imaginary, exploring hidden stories, marginalized narratives and the act of performance itself. At the beginning of March, she and her collaborators of Moved by the Motion shot a film with the ensemble that, inspired by the poem "come on, get it" by Fred Moten and the "Report from Occupied Territory" of James Baldwin, exploring underground streams of resistance and the politics of (in)visibility.The film was made in the stage setting of Composition III, a show in Schiffbau that will never take place and whose pre-echo can now be experienced in Pfauen.
With
Tosh Basco
,
Josh Johnson
,
Steven Sowah
,
Thelma Buabeng
,
Ondrej Vidlar
, Roderick George,
Titilayo Adebayo
,
Songhay Toldon
,
Thomas Wodianka
,
Matthias Neukirch
,
Lena Schwarz
,
Gottfried Breitfuss
, Roeselare Ames,
Perle Palombe
,
Michael Neuenschwander
, Deborah Macauley,
Joshua Wicke
, Sara Mathiasson, Michèle Nussbaum
Film by

With

Tosh Basco, Moved by the Motion

Director of Photography, Cinematography

Antonio Cisneros

Original Score

And

Patrick Belaga, Kelsey Lu, Ahya Simone, Klein, Austin Williamson

Horns

Tapiwa Svosve, Nicola Habegger, Sandra Weiss

Dramaturgy

Production

Laura D'Incau, Joyce Keokham
Show all contributers
1st Assistant Camera

Natalie Wallrapp

2nd Assistant Camera

Christina Welter

3rd Assistant Camera

Isabelle Simmen

Steadycam

Andreas Pfiffner

Gaffer

Greg Amgwerd

Lighting

Sebastian Suter, Taffy Oyewusi, Till Schlatter

Sound Recording

Kurt Human

Stage Assistant

Natascha Leonie Simons, Elisabetta De Cave, Luca Büchler

Costumes

Kyle Luu

Wardrobe Assistant

Liv Senn

Costume Assistant

Eloïse Ise, Sara Ramsay, Tiziana Ramsauer, Andrea Röschli

Hair

Sara Mathiasson

Hair, Make-Up, SFX

Judith Janser, Simone Mayer, Lena Steiner, Tabea Schapira, Dana Hesse, Marion Loosli

Edited by

Wu Tsang, Anthony Valdez

Production Assistant

Maja Renn, Michèle Nussbaum

Intern

Deborah Macauley
Show less contributers
Co-Commissioned by Schauspielhaus Zürich & Lafayette Foundation
Supported by UBS Kulturstiftung and Luma Foundation
Täglich von 10.00 Uhr bis 19.00 Uhr. Filmdauer: 30 Minuten.
Die Kasse ist von 9.30 Uhr bis 19.00 Uhr durchgängig geöffnet. Der Besuch ist kostenlos. Der Ticketpreis von CHF 20.-/10.- wird gespendet an die Allianz gegen Racial Profiling und an Bla*Sh.
Maximal 10 Personen auf einmal.
Connected journal posts