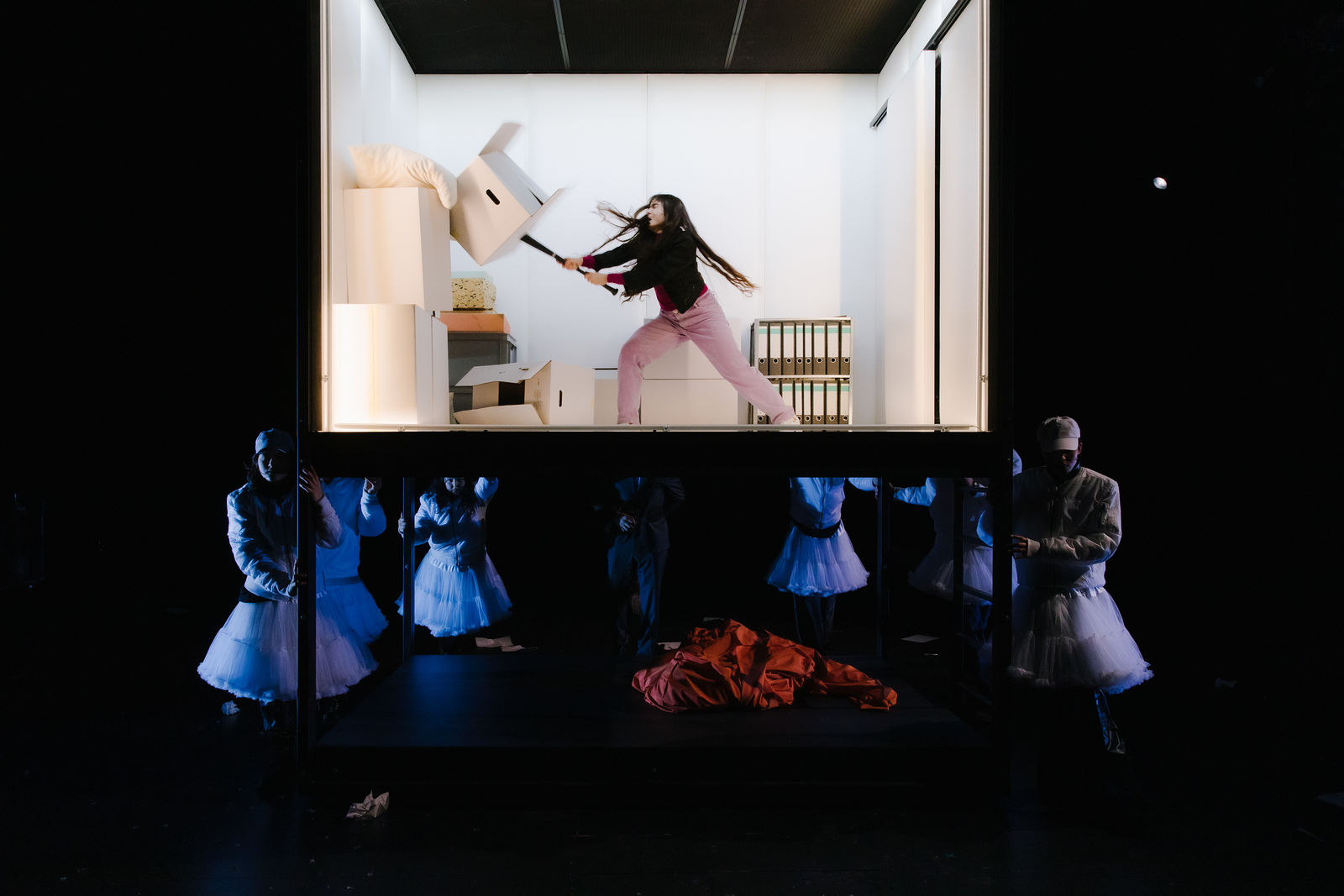 Ich chan es Zündhölzli azünde
By Fatima Moumouni and Laurin Buser
Staging: Suna Gürler
50% Protest
50% Anpassung
100% Wut
After the success of the play Bullestress (translates to: Trouble with Cops), the second play by Fatima Moumouni and Laurin Buser for the Schauspielhaus Zürich now follows: They create a pointed scenario for director Suna Gürler about a young person who no longer wants to keep quiet about the injustice of the political order. And then drops a match.

The title of the piece refers to a song by Manni Matter ("Ich chan es Zündhölzli azünde" which translates to "I Can Light a Match"). This production is not about Mani Matter. But it is all the more about anger: together with members of the ensemble and young, budding professional actors, director Suna Gürler examines when and why anger erupts, what this strong emotion can do to oneself and one's environment. And where the boundary between constructive and destructive anger lies.
Staging

Stage Design

Costume Design

Ursula Leuenberger

Music

Light

Michel Güntert

Dramaturgical preparation

Dramaturgy
Show all contributers
Audience Development

Silvan Gisler

Artistic Mediation T&S

Zora Maag

Production Assistance

Rosa Stehle

Stage design assistance

Eva Lillian Wagner

Costume design assistance

Ruth Wulffen

Head of Production

Jonas Junker

Production intern

Maimuna Barry

Stage Design intern

Luca Schäfer

Inspection

Eva Willenegger

Soufflage

Hannes Junker
Show less contributers
Supported by Ernst Göhner Stiftung, Landis & Gyr Stiftung, Elisabeth Weber Stiftung und der Stiftung Accentus.
approx. 1h 30min
Premiere: 11. February 2023, Pfauen
Pfauen
Also interesting for ages 14 and up
🛈 Introduction 30 min before the play on 1.3., 17.3. and 29.3.
Introduction: Katinka Deecke, Dramaturgy
Data
Tuesday 21.03. 20:00 Pfauen
Pay what you want
Public discussion
Wednesday 29.03. 20:00 Pfauen
Sunday 02.04. 16:00 Pfauen
Tuesday 04.04. 20:00 Pfauen
Image gallery & Videos