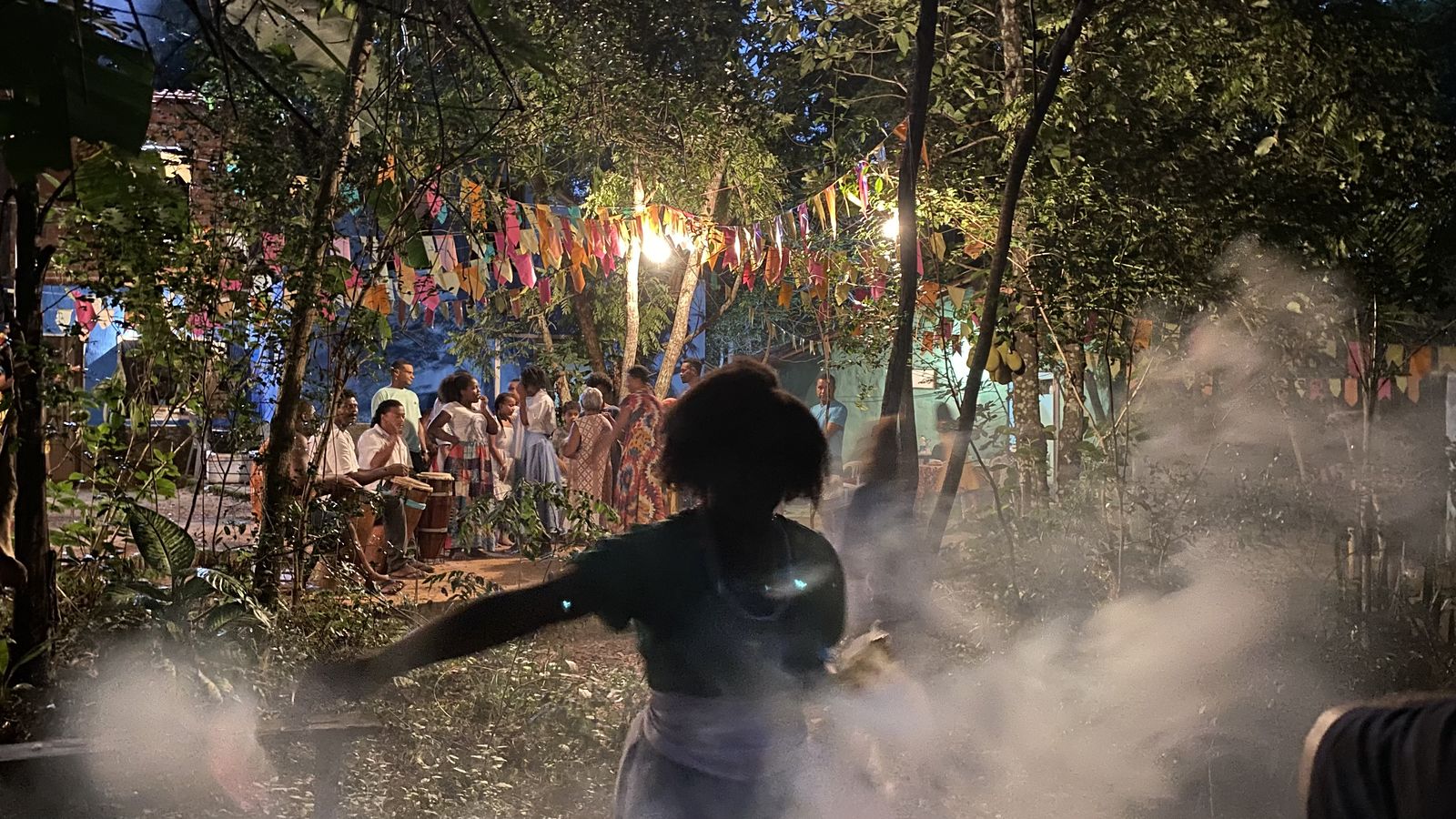 Depois do silêncio (After the silence)
After the book Crooked Plow by Itamar Vieira Júnior
Staging: Christiane Jatahy
50% Fiction
50% Reality
100% Ritual
Depois do silêncio is the final part of a "trilogy of horror" in which director Christiane Jatahy explores the fascistic politics of President Jair Bolsonaro in her native Brazil. Following Entre Chien et Loup at the Comédie de Genève and Before the Sky Falls at the Schauspielhaus Zürich, Depois do silêncio takes on the theme of slavery. Based on Vieira Júnior's internationally praised debut novel, Christiane Jatahy goes to the mountainous backcountry of the state of Bahia. In collaboration with Afro-Brazilian and Indigenous communities of Remanso and Iúna – Chapada Dimantina/Bahia/Brazil. living there, she uses the means of theater and film to tell the story of two sisters whose freedom is only the colonial mask of their ancestors' slavery.
With Gal Pereira / Juliana França / Lian Gaia / Aduni Guedes / Caju Bezerra / Participation of the residents of the communities of Remanso and Iúna - Chapada Dimantina/Bahia/Brazil
Conzept, Script

Artistic Collaboration, Stage design, Lighting

Thomas Walgrave

Costume Design

Preta Marques

Camera

Pedro Faerstein

Music

Vitor Araújo / Aduni Guedes

Sound

Pedro Vituri

Collaboration script

Ana Maria Gonçalves / Tatiana Salem

Body training

Dani Lima

Sound (Film)

João Zula

Production & Tour Manager

Henrique Mariano
A production of Cia Vertice – Axis productions
A coproduction with Wiener Festwochen, CENTQUATRE-Paris, Odéon-Théâtre de l'Europe, Paris; Arts Emerson, Boston; Künstlerhaus Mousonturm, Frankfurt a. M.; Temporada Alta Festival de tardor de Catalunya; Théâtre Dijon-Bourgogne CDN; Théâtre National Wallonie-Bruxelles; Piccolo Teatro de Milano; DeSingel, Antwerp; Schauspielhaus Zürich, Centro Dramatico National, Madrid; Théâtre Populaire Romand; Centre neuchâtelois de arts vivants La Chaux-de-fonds, Riksteatern-Sweden
apporx. 100 Minutes
Zürich-Premiere: 9. February 2023, Schiffbau-Box
Portuguese with German and English surtitles
🛈 Triggerwarning: This production contains verbal portrayals of racially motivated violence, colonial exploitation and slavery.
Image gallery & Videos