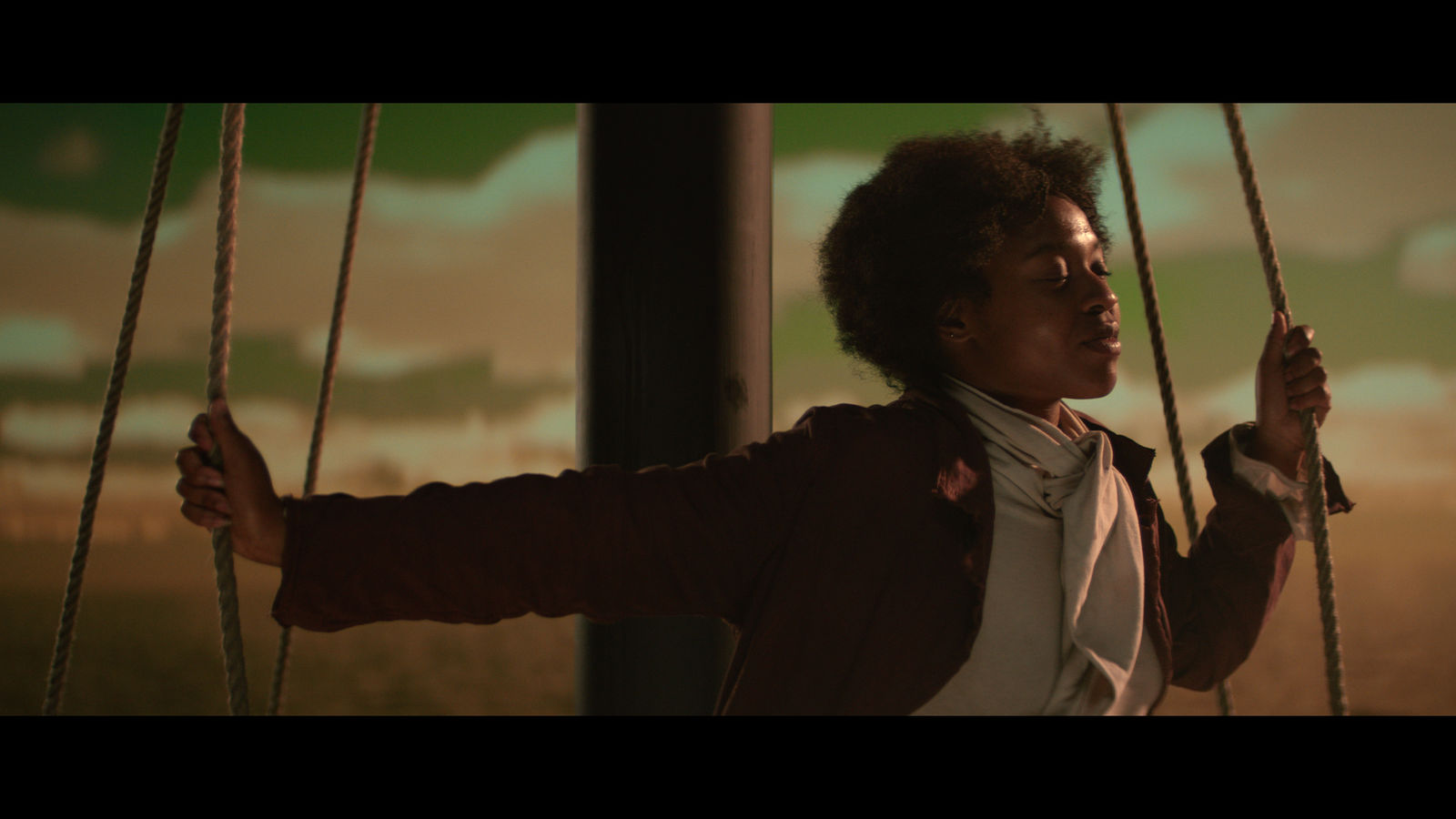 MOBY DICK;
or, The Whale
After the novel by Herman Melville
Presented by Moved by the Motion
Directed by Wu Tsang
With this sujet the group Moved by the Motion takes on one of the "Great American Novels": Moby Dick by Herman Melville. Sophia al Maria and Wu Tsang's adaptation, interwoven with extracts by a sub-sub-librarian (Fred Moten), tackles the novel's subterranean currents, encountering a resistant hydrarchy and haptic collectivities of "mariners, renegades, and castaways" (CLR James). Directed by Wu Tsang and scored live by the ZKO to a composition by Caroline Shaw and Andrew Yee with Asma Maroof, the silent film follows the white whale above and below the surface of the water, developing a visual cosmology that resists the exploration and exploitation of the earth under imperial colonialism. The staging of Moved by the Motion interweaves the story of the whaler's 'floating factory' with the early days of the film industry.
Directed by

Written by

Sophia Al-Maria

Original Score

Caroline Shaw / Andrew Yee / Asma Maroof

Conductor

Produced by

Laura D'Incau

Show all contributers
Co-Produced by

Executive Producers

David Codikow / Nadja Rangel

Associated Producers

Tosh Basco / Sophia Al-Maria, Stefan Scheuermann / Barbara Higgs

Cinematography

Antonio Cisneros

Movement Direction

Choreography

Costumes

TELFAR / Kyle Luu

Production Design

Nina Mader

Virtual Production

Bild Studios

Video Design

Fray Studios

Edited by

Jérôme Pensel

Dramaturgy

Audience Development

Theatre Pedagogy

Production Assistance

Assistant director

Sonja Levy

Stage design assistance

Costume design assistance

Paula Henrike Herrmann / Ulf Brauner

Production interns

Pauline Avognon / Andrina Imboden / Josephine Scheibe

Costume design intern

Naïma Alissa Trabelsi

Script Translation

Sinikka Weber / Alain Angehrn
Show less contributers
With live accompaniment by the Zurich Chamber Orchestra (ZKO) conducted by Kevin Griffiths.
Co-Commissioned by LUMA Foundation, Superblue, TBA21–Academy, HARTWIG ART FOUNDATION, The Shed, DE SINGEL and The Whitney Museum of American Art. Supported by Martina Vondruska & Gerd Schepers.
Subtitled by Katja Roloff on behalf of Panthea (2022).
Quotations from Moby Dick were subtitled based on the translation by Matthias Jendis (Hanser Verlag, 2001).
75 minutes, no interval
Premiere: 12 March 2022, Pfauen
Pfauen
Data
Tuesday 20.09. 20:00 Pfauen
Thursday 29.09. 20:00 Pfauen
Image gallery & Videos