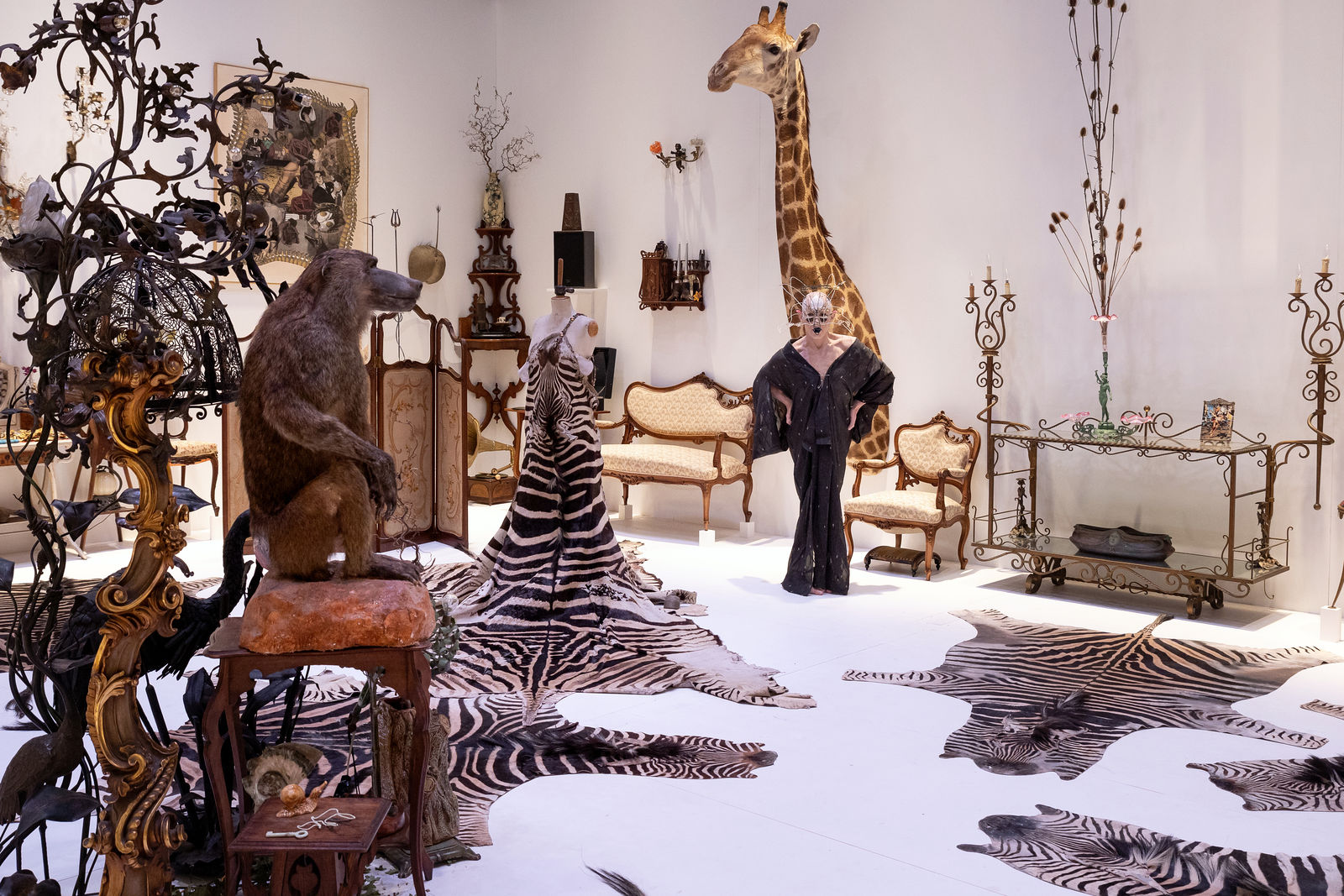 Boudoir
The Théâtre de Vidy from Lausanne is coming to the Schiffbau with selected productions
Welcome to the boudoir, that room in the bourgeois house reserved for women, and which Sade developed into a practical philosophy, for here the body and intimacy are revealed to be political. South African artist Steven Cohen's boudoir is elegant, melancholic and cruel. The delicate refinement of the furniture and ornaments awakens intimate memories of colonial, political or religious violence, while he – or the fairy-like being he embodies – physically confronts history.
Conception, staging and performance

Costume Design

Steven Cohen / Clive Rundle

Video

Richard Muller

Editing

Baptiste Evrard / Steven Cohen

Light

Yvan Labasse

Image

John Hogg / Allan Thiebault

Management Compagnie Steven Cohen

Samuel Mateu

Direction

Véronique Kespi

Production

Anouk Luthier
Show all contributers
Accessoires

Séverine Blanc / Mathieu Dorsaz

Direction Video

Victor Hunziker

Stage management

Jean-Daniel Buri
Show less contributers
Production by: Théâtre Vidy-Lausanne - Cie Steven Cohen
Avec la Fondation d'entreprise Hermès dans le cadre de son programme New Settings
Coproduction by: Mousonturm Frankfurt - Théâtre National de Bretagne, Rennes - TAP Théâtre et Auditorium de Poitiers - Les Spectacles vivants, Centre Pompidou - Festival d'Automne à Paris - Les Halles de Schaerbeek - BIT Teatergarasjen - DRAC Nouvelle-Aquitaine
Support by: Collectif FAIR-E/CCN de Rennes et de Bretagne
Avec les équipes techniques, administratives, de production et de développement des publics & communication du Théâtre Vidy-Lausanne et de la Compagnie Steven Cohen
1h
23. – 25. February 2023, Schiffbau-Box
In English & French
🛈 Triggerwarning: This production contains depictions of explicit violence.
Image gallery & Videos