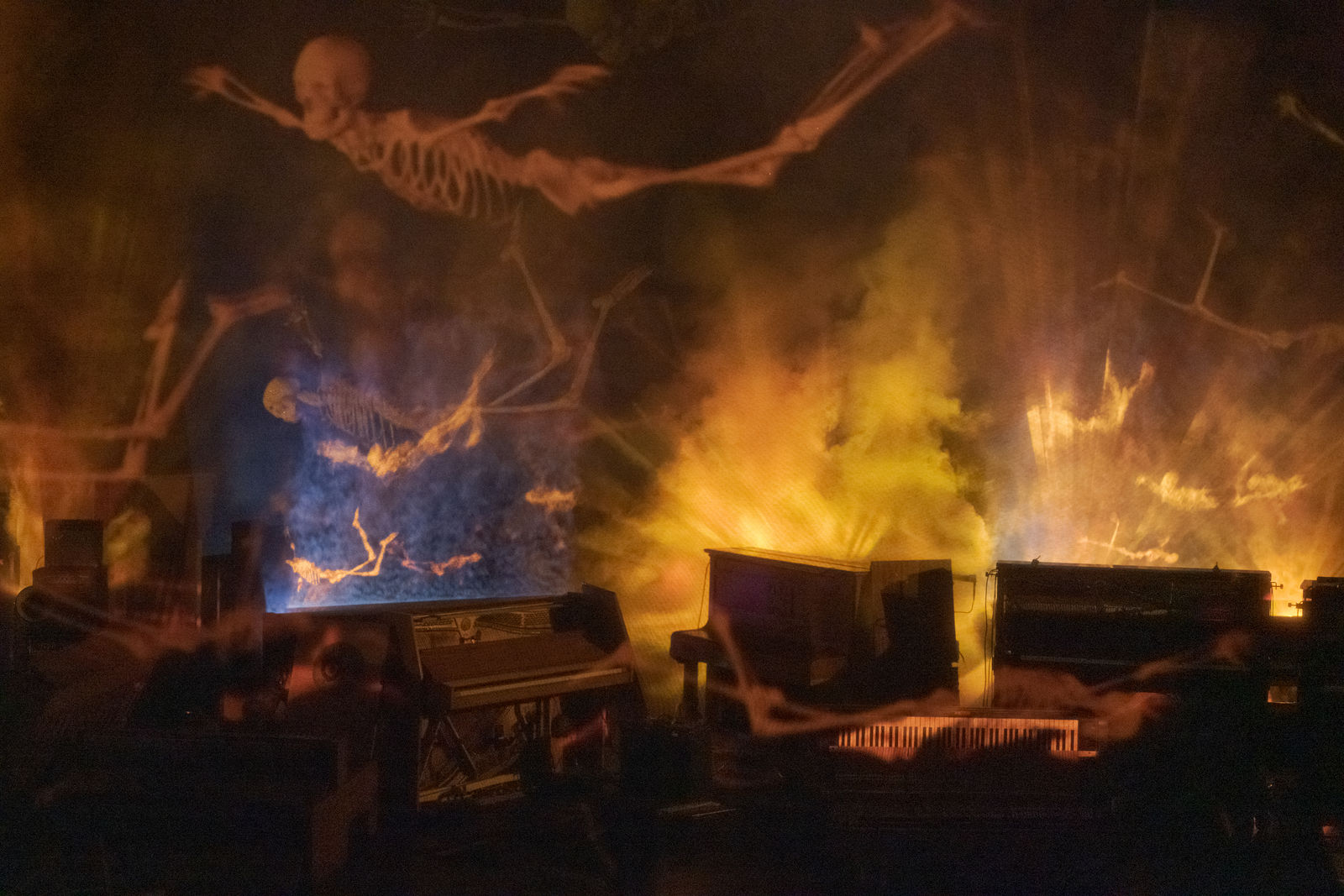 Fantasmagoria
The Théâtre de Vidy from Lausanne is coming to the Schiffbau with selected productions
Fantasmagoria: a fantastic, supernatural vision. A place of wonder. A set of ideas and representations that captivate by their power of illusion. Philippe Quesne offers an insight into the matrix of his shows, into his mental workshop where ghosts from the history of art, tales awaiting bodies and lonesome machines meet. A musical show without actors, but with machines, monsters, magic… An ever-changing diorama of possible worlds which defies the fatality of time ! Philippe Quesne will collaborate with Elodie Dauguet for the space, Nico De Rooji for the lights and video, Pierre Desprats (musician of Bertrand Mandico) for the music, various intellectual contributions (Coccia...) and the workshops of props and sets.
Conception, direction, staging

Music

Pierre Desprats

Artistic collaboration

Elodie Dauguet

Lights

Nico de Rooij

Dramaturgical collaboration

Eric Vautrin

Direction

Marc Chevillon
Show all contributers
Assistance

Fleur Bernet

Animation 3D

Bertran Suris / Philippe Granier

Voices

Isabelle Prim / Èlg / Pierre Desprats

Stage design

Atelier du Théâtre Vidy-Lausanne

Production

Elizabeth Gay

Direction

Quentin Brichet

Accessories

Mathieu Dorsaz

Video

Mattias Schnyder

Sound

Ludovic Guglielmazzi

Stage

Fabio Gagetta

Light

Farid Deghou
Show less contributers
Théâtre Vidy-Lausanne, Vivarium Studio
With the support of Fondation d'entreprise Hermès as part of its programme New Settings, Circle of Patrons
A Coproduction by
Bonlieu, Scène nationale Annecy
Les Spectacles vivants, Centre Pompidou
Festival d'Automne à Paris
La Rose des vents, Scène nationale Lille Métropole Villeneuve d'Ascq
50 Minutes
23. – 26. February 2023, Schiffbau-Halle
🛈 This show is supported by the PEPS project within the framework of the European program of territorial cooperation Interreg V France-Switzerland.
Image gallery & Videos