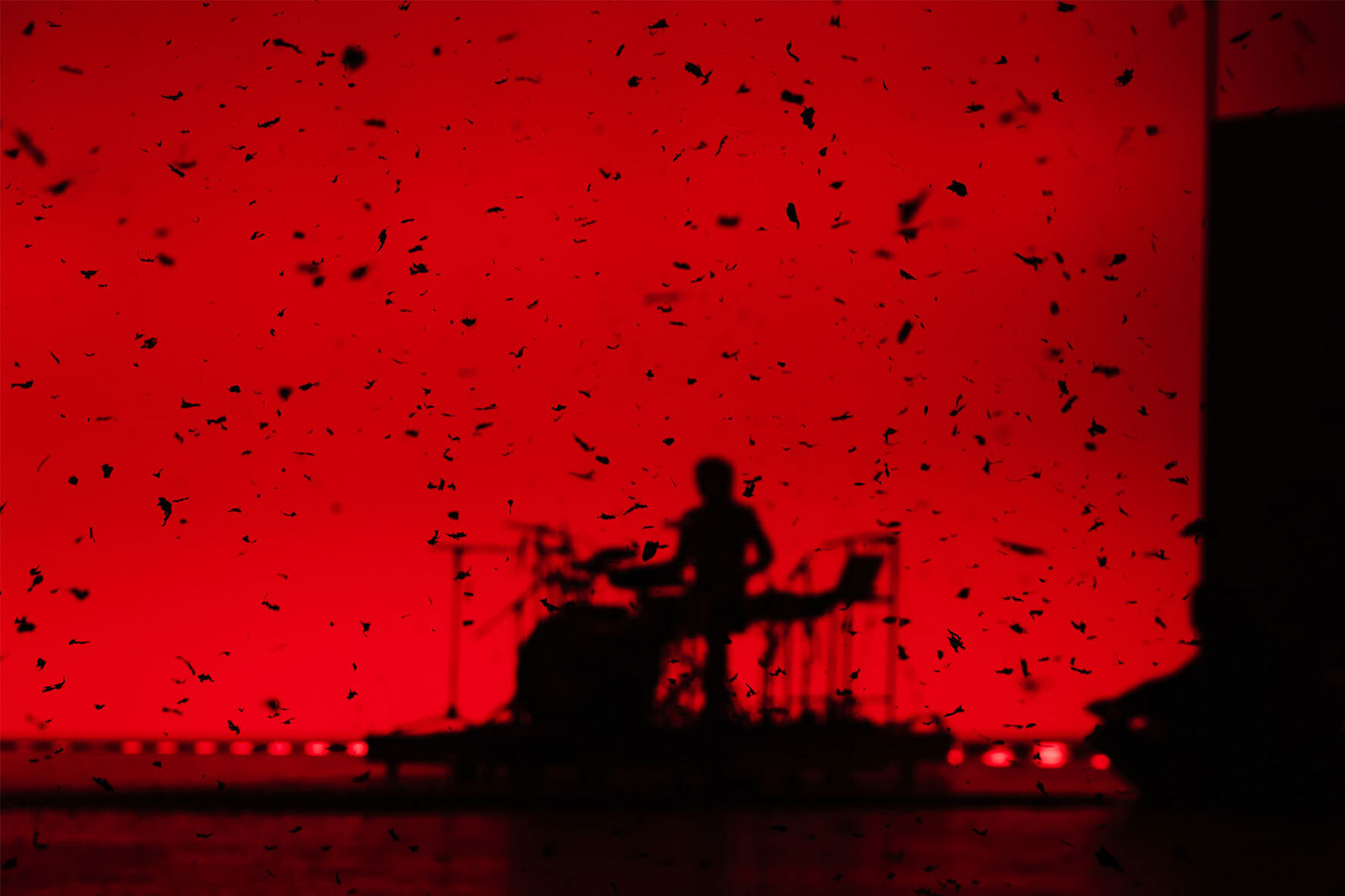 Einfach das Ende der Welt
Family trilogy I
After Jean-Luc Lagarce
Staging: Christopher Rüping
50% Intimate Drama
50% Apocalypse
100% Acting
* 58. Berliner Theatertreffen *
* Production of the Year 2021 (Theater heute) *
* Benjamin Lillie Actor of the Year 2021 *
* Maja Beckmann Actress of the Year 2021 *
* Nestroy-Preis 2021: Best German-Language Performance *

After twelve years, a young gay man returns to his family. He has not been heard from for twelve years, has become a successful artist in the big city in the meantime and has distanced himself in heart and mind from his family, who still live in the small town. Whether it is possible to reconnect; whether years of no contact soften or harden the judgement of each other; whether the years spent together weigh more heavily than the years of being away from each other - together with the actors Maja Beckmann, Nils Kahnwald, Ulrike Krumbiegel, Benjamin Lillie and Wiebke Mollenhauer, director Christopher Rüping delves into the drama of family in the huge Schiffbau-Halle.
Einfach das Ende der Welt is the first part of Christopher Rüping's family trilogy. The second part, Brüste und Eier after Mieko Kawakami, premiered at the Thalia Theater in Hamburg on 30 April 2022. Rüping, in collaboration with his respective ensemble, uses different material, without any claim to completeness, to question in three independent works the construct of families in the 21st century. While Einfach das Ende der Welt was about the return of the prodigal son and the desperate attempt to escape one's own origins, Brüste und Eier focuses on the issue of motherhood and the rejection of the conventional family image of past decades.
To the virtual stage of the play Einfach das Ende der Welt 3D-Experience: Das Elternhaus
Credits
Jonathan Mertz original stage for Einfach das Ende der Welt from Director Christopher Rüping
Team 3D-Development / minus.eins
Roman Senkl Künstlerische Leitung
Nils Corte Coding
Elisabeth Drache, Nils Gallist, Laurin Bürmann, Alex Podolskij, Marc Kemper 3D-Design
Christian Knapp Causa Creations Unity & WebGL
Péter Sanyó Produktionsleitung
Team of the production
Christopher Rüping, Benjamin Lillie Storytelling / Erinnerungen
Benjamin Lillie Stimme
Jonathan Mertz Bühne und Objekte
Matze Pröllochs Komposition
Anja Mednitzer, Sarah Fröhlicher, Marianne Boos, Rock Battaglia Props Requisite
A project by Labor für Digitale Künste der Berliner Festspiele on behalf of Theatertreffen in cooperation with Theater Dortmund / Department Digitale Künste and Akademie für Theater und Digitalität
Staging

Set design

Costumes

Music

Light

Frank Bittermann

Dramaturgy
Audience Development

Silvan Gisler

Theatre pedagogy

Production assistant

Set design assistant

Costume assistant

Video assistant

Emma Lou Herrmann / Linus Stiefel

Production trainee

Delfina Ledermann

Set design trainee

Andrea Mohn

Dramaturgy trainee

Mira Gebhardt

Musical trainee

Stage management

Dagmar Renfer

Soufflage

Rita von Horváth
In a facility for the Schauspielhaus Zurich
Based on a translation by Uli Menke.
Supported by Gesellschaft der Freunde des Schauspielhauses (gfs)
2 hours 30 minutes
Premiere: 3. Dezember 2020, Schiffbau-Halle
Also interesting for ages 16
🛈 Break: After 30min a 15-minute break to rebuild stage

Introduction 30 min before the play on 30.6.
Introduction: Katinka Deecke, Dramaturgy