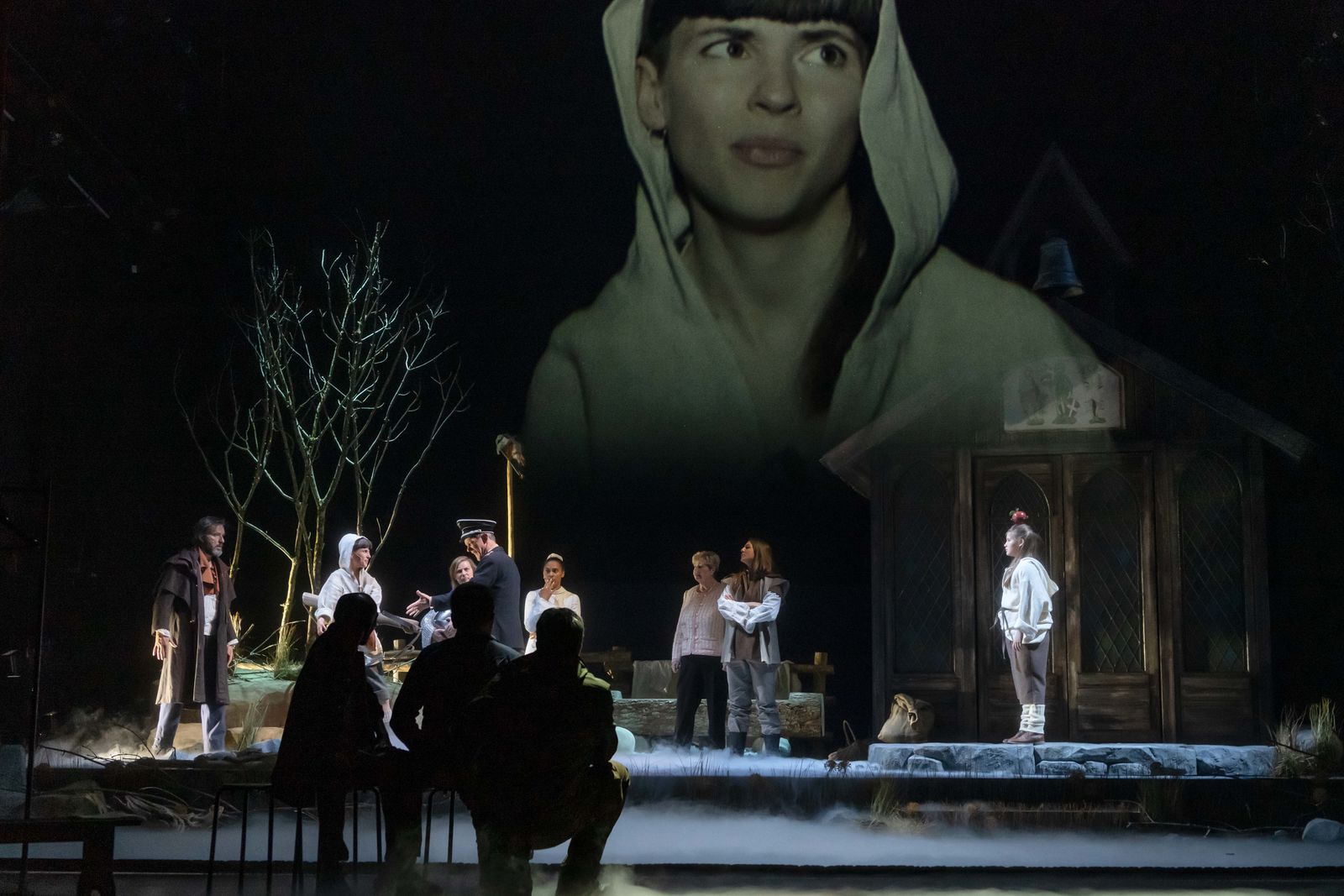 Wilhelm Tell
Adapted from Friedrich Schiller
Staging: Milo Rau
97% Tell
98% Us
99% A Story
The world's streets are crowded with them: protestors, feminists, Trumpists, scientists, anti-vaxxers, critics of capitalism – people waving guns, banners or masks who are united by a single but not common goal: defending their freedoms. Never before have so many people publicly demanded their right to self-determination at the same time. And never before have they taken up such a range of positions. Which "freedom" are we actually talking about here?

Time to consult a so-called "freedom fighter". In preparation for the production, Swiss director Milo Rau follows in the footsteps of William Tell as he invites on a road trip through the country, bringing together actors, laypeople, gentle humanists and free radicals under one banner. "We have to break free!" is the simultaneously utopian and provocative call of this ragtag group. Break free from what? In exchange for what?
«The performance is extremely dense, sometimes banal, often grandiose. Above all, however, the true stories of real people, which ultimately include the actors, depict exactly what the exile ensemble was aiming for in 1939: comprehensive humanity.» (Süddeutsche Zeitung, 23.04.2022)
«The most impressive performance of the evening. When former forced labourer Irma Frei tells her story of fate, it becomes so quiet in the theatre hall that you would hear a pin drop to the floor.» (Blick, 24.04.2022)
«Milo Rau has reached right into Helvetic realities - from that of the hunter to that of the hunted - and whirled them seemingly at random into the myth. The result was a flaky but genuine theatre for the city.» (Tages-Anzeiger, 4.23.2022)
«Milo Rau's highlight turns out to be that Tell can be played by anyone.» (NZZ, 24.04.2022)
«Masterly» (RTS, 27.04.2022)
Extras

Cristiano Giudici / Stefan Vogel

Staging

Stage and Costume

Anton Lukas

Sound design

Elia Rediger

Video

Moritz von Dungern

Light

Christoph Kunz

Dramaturgy

Audience Development

Silvan Gisler
Show all contributers
Theatre Pedagogy

Manuela Runge / Rosa-Lin Meessen

Executive Producers

Monika Huber / Negi Urban / Laura Weibel

Associated Producers

Rosa Stehle

Consent Coach

Kasia Szustow

Artistic Collaboration

Rolf Bossart

Laypersons Care

Jasmin Gloor / Anna Schöb

Stage design assistance

Karl Dietrich

Costume design assistance

Naïma Alissa Trabelsi / Valeria Ballek

Production Intern

Rosa-Lin Meessen

Dramaturgy Intern

Ricarda Hillermann

Stage design intern

Vona Bürki / Marlene Metzler

Costume design intern

Carla Schwarb

Inspection

Aleksandar Sascha Dinevski

Surtitle Translation

Corinne Hundleby

Surtitle Riders

PANTHEA

Soufflage

János Stefan Buchwardt
Show less contributers
With the support of Stiftung Corymbo
Dätwyler Stiftung, Kanton Uri & Kanton St. Gallen
♥ Affairs
1h 45min
Premiere: 23 April 2022, Pfauen
🛈 Introduction 30 Min before the play on 5.6.

Triggerwarning: This production contains depictions and portrayals of violence, sexual violence, racial profiling & weapons. Strobes are used.
Introduction: Bendix Fesefeldt, Dramaturge
Image gallery & Videos