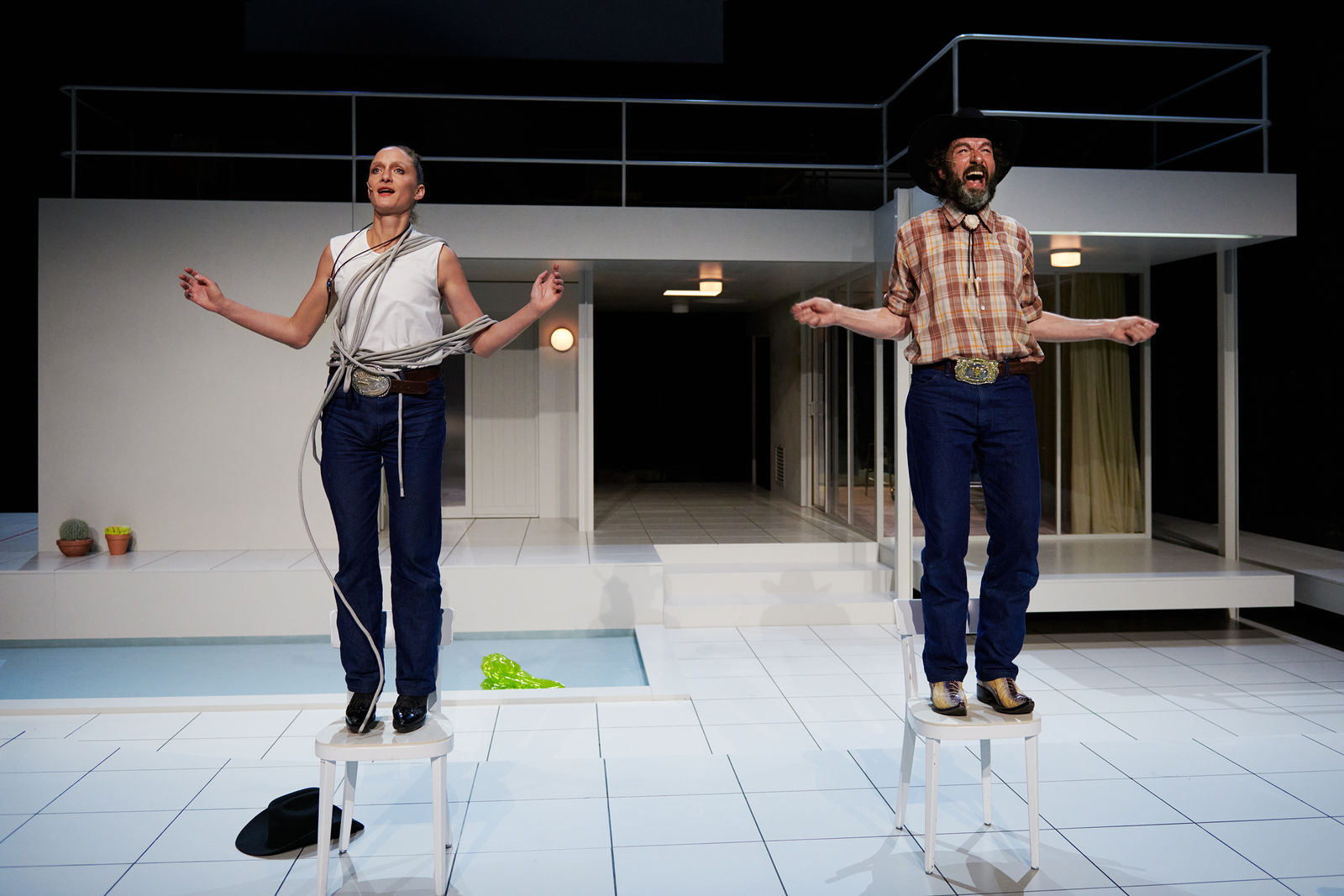 Kurze Interviews mit fiesen Männern –
22 Arten der Einsamkeit
After David Foster Wallace
Staging: Yana Ross
100% Cowboys
1% Sexuality
99% Loneliness
*** Content Warning: This staging contains violent language (sexism, misogyny, rape, sexual violence) and live sex. The description of rape can have a potentially retraumatising effect. ***
Please note: The performance is only accessible for ages 18 and up. No photos are allowed to be taken, You can leave the performance at any time.
David Foster Wallace's language in Kurze Interviews mit fiesen Männern (Brief Interviews with Hideous Men) sets the stage for live sex and mindfuck, and thereby encounters a hard core question: how far can hideous men, can toxic masculinity go? Wallace locates dehumanisation, humanity's greatest tragedy, in the private sphere where no one sees it. The painful experiences go deep. Cemented by shame, there is no language capable of overcoming them. Yana Ross's production dares to challenge catharsis with grotesque means.
Staging

Bühne

Set Design & Costumes

Zane Pihlstrom

Music

Knut Jensen

Video and Live-Camera

Algirdas Gradauskas

Light

Christoph Kunz

Intimacy Coach

Kasia Szustow

Dramaturgy
Show all contributers
Audience Development

Touring & International Relations

Sonja Hildebrandt

Production assistance

Samuel Petit

Stage Assistant

Ann-Kathrin Bernstetter / Karl Dietrich

Costume Assistant

Mona Eglsoer

Stage Manager

Michael Durrer / Aleksandar Sascha Dinevski

Soufflage

János Stefan Buchwardt

Surtitle Translation

Sinikka Weber
Show less contributers
120 minutes
Premiere: 11 September 2021
From age 18
German
🛈 Introduction 30 min before the play on 13.09., 15.09., 16.09., 18.09., 30.09.,01.10., 06.10., 08.10., 09.10., 11.10., 14.10. and 15.10.
Image gallery & Videos