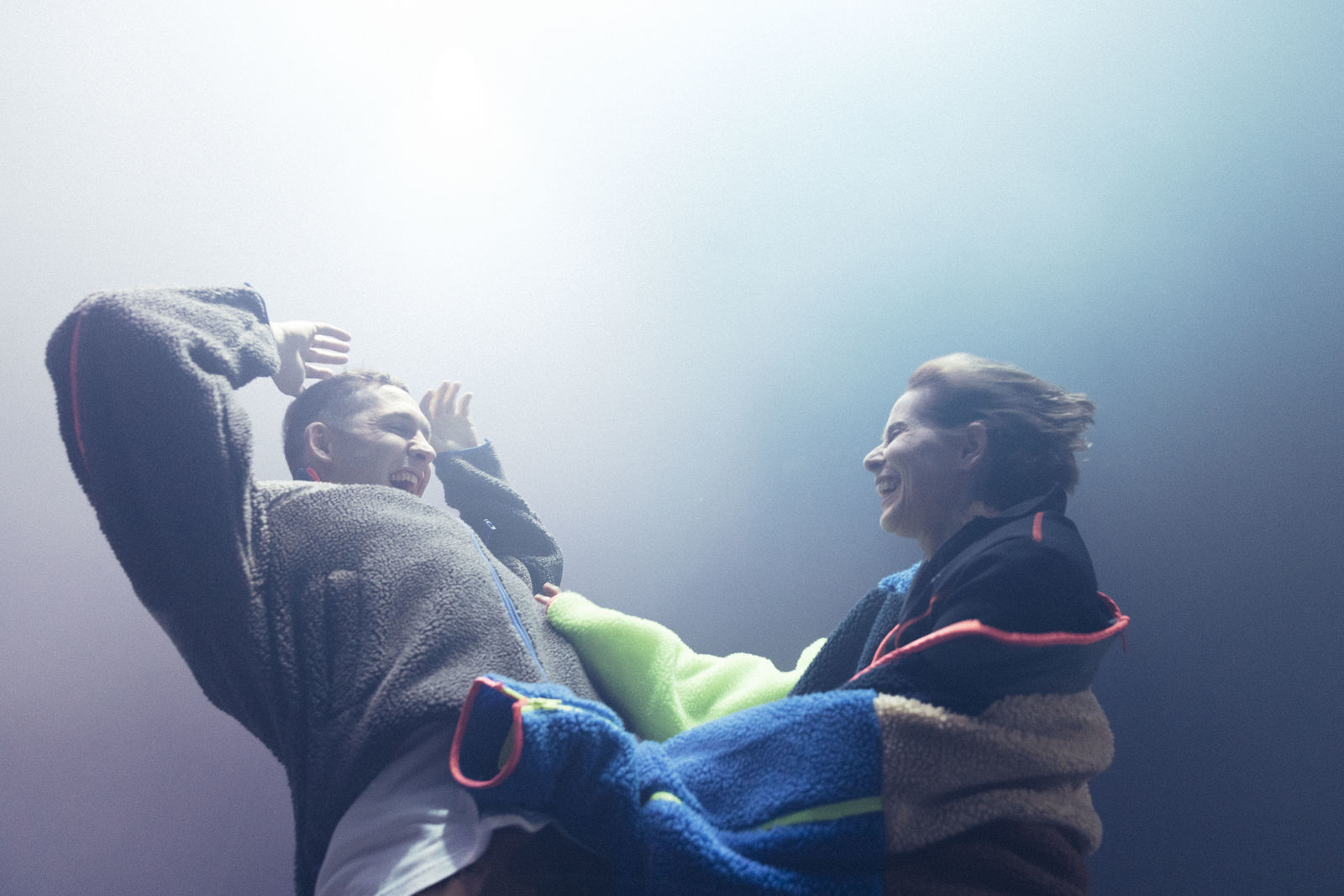 Der Mensch
erscheint im Holozän
Resumption:
A visual poem after Max Frisch
Staging: Alexander Giesche
Invited to 57. Berliner Theatertreffen
​3sat award winner
A mountain slides and someone loses their memory. Such is the reduced framework of Max Frisch's story Der Mensch erscheint im Holozän, which was published 40 years ago. Both, the protagonist Herr Geiser and the mountain gently drift into oblivion. The catastrophe lasts and beauty can be found in it. Under an almost tender gaze, the human being and dementia sufferer Mr. Geiser disappears in the narrative - and instead of the earth's mass, a self is slowly eroding here. Alexander Giesche's staging, which oscillates in its aesthetics between the virtual and the analog, between simulation and the all too real, makes the beauty of a catastrophe and its potential for healing palpable. And it poses the question of whether recognizing one's own finiteness might not also facilitate a new beginning.
Staging

Set Design

Video

Kostüme

Composition

Light

Frank Bittermann

Dramaturgy
Show all contributers
Audience Development

Drama Teacher

Drama teacher assistant

Nadir Ak

Costume assistant

Ulf Brauner

Set design assistant

Marie Hartung

Production assistant

Extra (Children)

Benjamin Bubica, Rosa Curi, Alexia Finocchiaro-Piu, Julia Kalberer, Matti Kramer, Cara Stäger
Show less contributers
1 hour 50 minutes, plus screening afterwards
Premiere: 23. January 2019, Pfauen
Pfauen
Recommended age: 16 and above
🛈 Introduction 30 min before the play on 23.09., 26.09., 28.09., 30.09.(pay what you want), 3.10., 8.10. and 21.11.
Attention: Use of stroboscopes and fog!

For the duration of the pandemic, we will also publish the introductions as podcasts on the website of the respective play. Live introductions in the theatre will continue to be offered before every performance of a repertoire production (except Sundays and holidays).
Introduction: Joshua Wicke, Dramaturgy
Data
Monday 28.09. 20:00 - 21:50 Pfauen
Wednesday 30.09. 20:00 - 21:50 Pfauen
Saturday 03.10. 20:00 - 21:50 Pfauen
Sunday 04.10. 16:00 - 17:50 Pfauen
Thursday 08.10. 20:00 - 21:50 Pfauen
Sunday 25.10. 16:00 - 17:50 Pfauen
Saturday 21.11. 20:00 - 21:50 Pfauen
Friday 04.12. 20:00 Pfauen
Image gallery & Videos