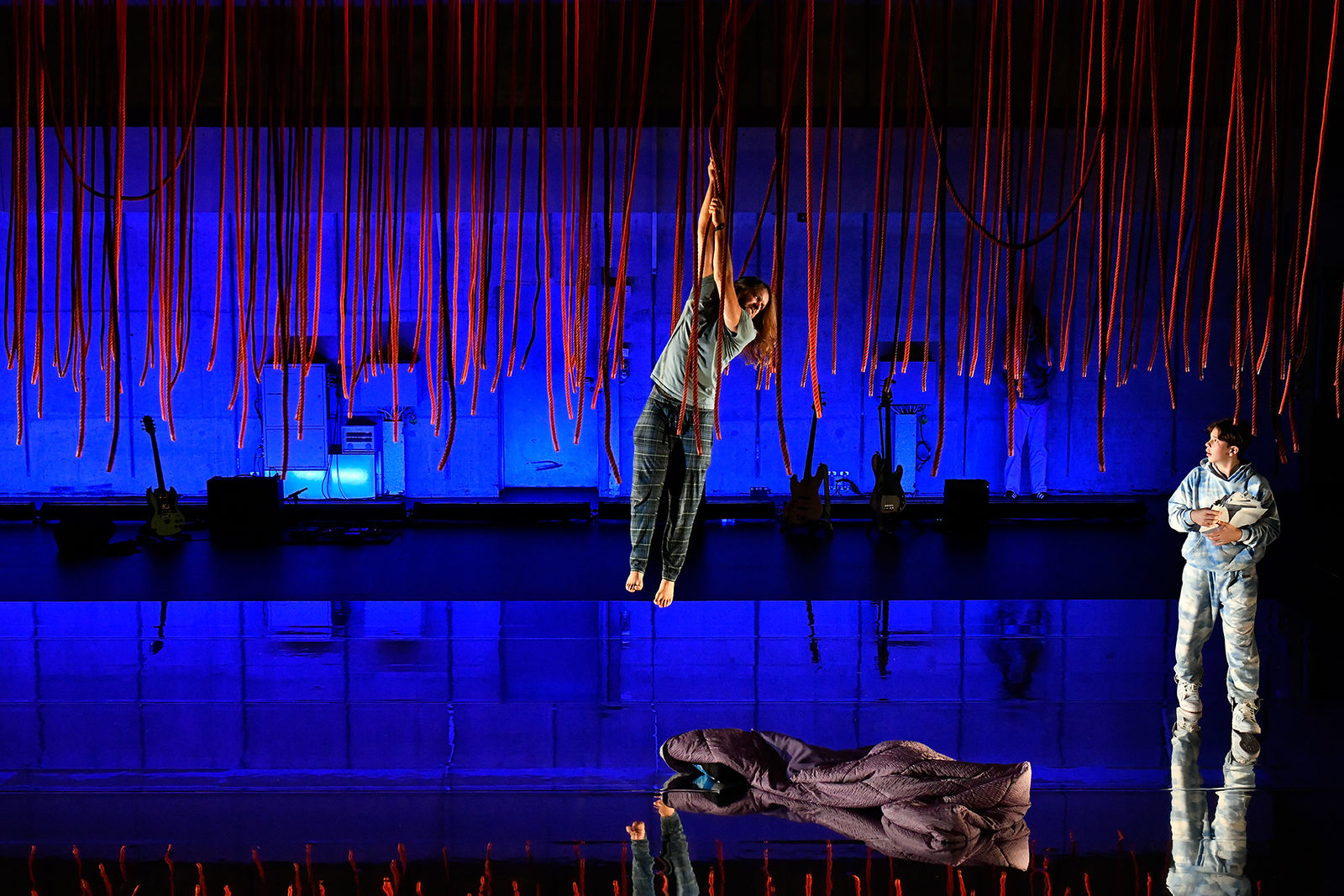 My Heart Is Full
of Na-Na-Na
By Lucien Haug
Staging: Suna Gürler
100% All-male Family
80% Brotherhood
100% Rope Party
Sometimes talking about movies that no one can remember clearly leads to the emergence of a play. That's how it is for director Suna Gürler: a feel-good movie – one that's not particularly worth watching – in which the mother dies, the father descends into mourning, and the only son befriends a guy who nobody really knows where he comes from or what he stands for, but who messes up everyone's life without fail, inspiring her and author Lucien Haug to create a play about mourning, caring and the question of what happens when there's a sudden shift in family structures and feelings.
Beyond dad-worship and patriarchy, Suna Gürler sets out together with a few male players in search of the men of the future. And watches them wonder, have tender encounters, be there for each other, deal with and reject feelings, slip into father roles, explore families and friendships beyond what's taken as a given. Living as a "man", interwoven with a living world – how could that work, despite all the unease?

Staging

Stage Design

Costume Design

Music

Lighting

Gerhard Patzelt

Dramaturgy
Audience Development

Laura Rivas Kaufmann / Silvan Gisler

Artistic Mediation T&S

Miloš Stolic / Manuela Runge

Production Assistance

Laura Weibel / Carlotta Späni

Stage design assistance

Costume design assistance

Ruth Wulffen

Production intern

Giorgio Dridi

Audience Development intern

Maimuna Barry

Inspection

Aleksandar Sascha Dinevski

Soufflage

Elif Karci

Surtitle Riders

Jakob Gerber / Raman Khalaf (Panthea)
Supported by Ernst Göhner Stiftung and Landis & Gyr Stiftung
ca. 95 Minutes
World premiere: 29. October 2022, Schiffbau-Box
Also interesting for ages 14 and up
In German and Swiss German
🛈 Introduction 30 min before the play on 26.6. and 28.6.
Introduction: Fadrina Arpagaus, Dramaturgy