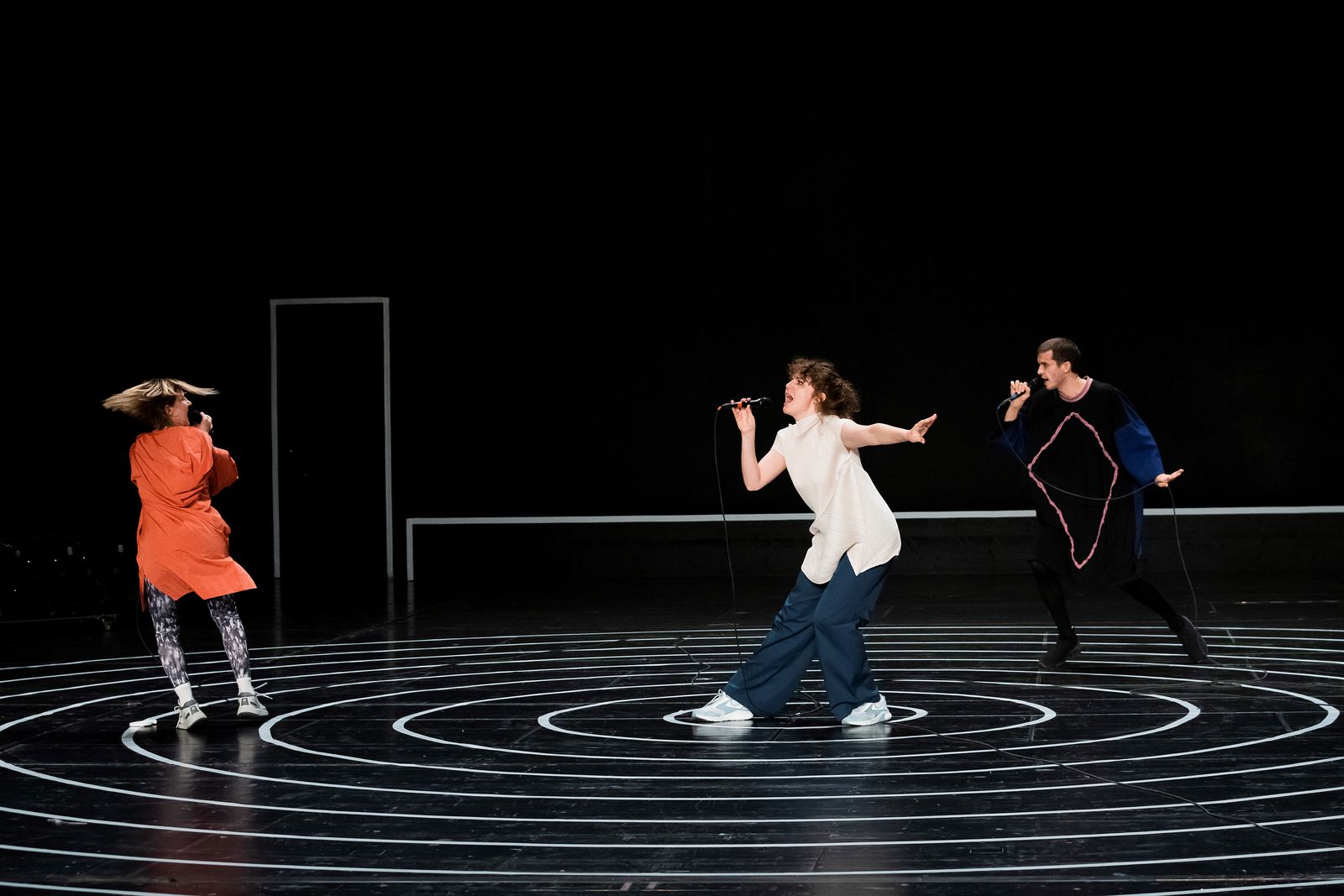 Das neue Leben
"Where do we go from here"
Freely adapted after Dante Alighieri, Meat Loaf & Britney Spears
Based on a translation by Thomas Vormbaum
Staging: Christopher Rüping
80% Schauspiel
90% Death & Desire
100% Coup de Foudre
And now, let's imagine that we're nine years old and meet the love of our lives. We don't really meet her – we just get a look. But we're stunned. At 18, we see her again: a greeting (not a kiss) from her, from far away. And actually that's it. No word, no contact. But we will dedicate our whole life to this love.
The Italian writer Dante Alighieri felt this all-embracing longing. The 700th anniversary of his death was commemorated in 2021. The jury of the 2022 Berlin Theatertreffen wrote about this production: "The topics are true love, death and missed moments. And how they can sometimes generate art. A courageous, surprising evening of virtuoso acting and music that grabs us by our (post pandemic yearning for encounter and new beginnings, aims for our hearts and hits the bullseye." With the Bochumer Ensemble, Christopher Rüping embarks on an exploratory journey through Dante's world of love and that of his pop-cultural heirs, from Britney Spears to Meat Loaf. Love is everything.
With William Cooper / Viviane De Muynck /
Henni Jörissen
/ Anne Rietmeijer / Damian Rebgetz
Staging

Stage Design

Costume Design

Music

Jonas Holle

Piano arrangements

Paul Hankinson

Lighting

Bernd Felder

Dramaturgy

Vasco Boenisch
Show all contributers
Assistant director

Linda Hecker

Construction

Anja Lawrenz

Stage design assistance

Lan Anh Pham

Costume design assistance

Lasha Iashvili

FSJ Costume

Jule Reichenbach

Language coaching

Roswitha Dierck

Soufflage

Arian Schill

Inspection

Christiane Dolnik

Assistant director intern

Rasmus Geyer

Surtitle inspection

Jonas Kissel / Leonie Mevissen
Show less contributers
A production by Schauspielhaus Bochum ♥ Affairs
Supported by Förder Circle Schauspielhaus Zürich
Invited to 59. Berliner Theatertreffen
130 Minutes, no break
Zürich-Premiere: 20. October 2022, Pfauen
🛈 Introduction 30 min before the play on 13.2., 15.2. and 8.3.
Introduction: Katinka Deecke, Dramaturgy
Image gallery & Videos