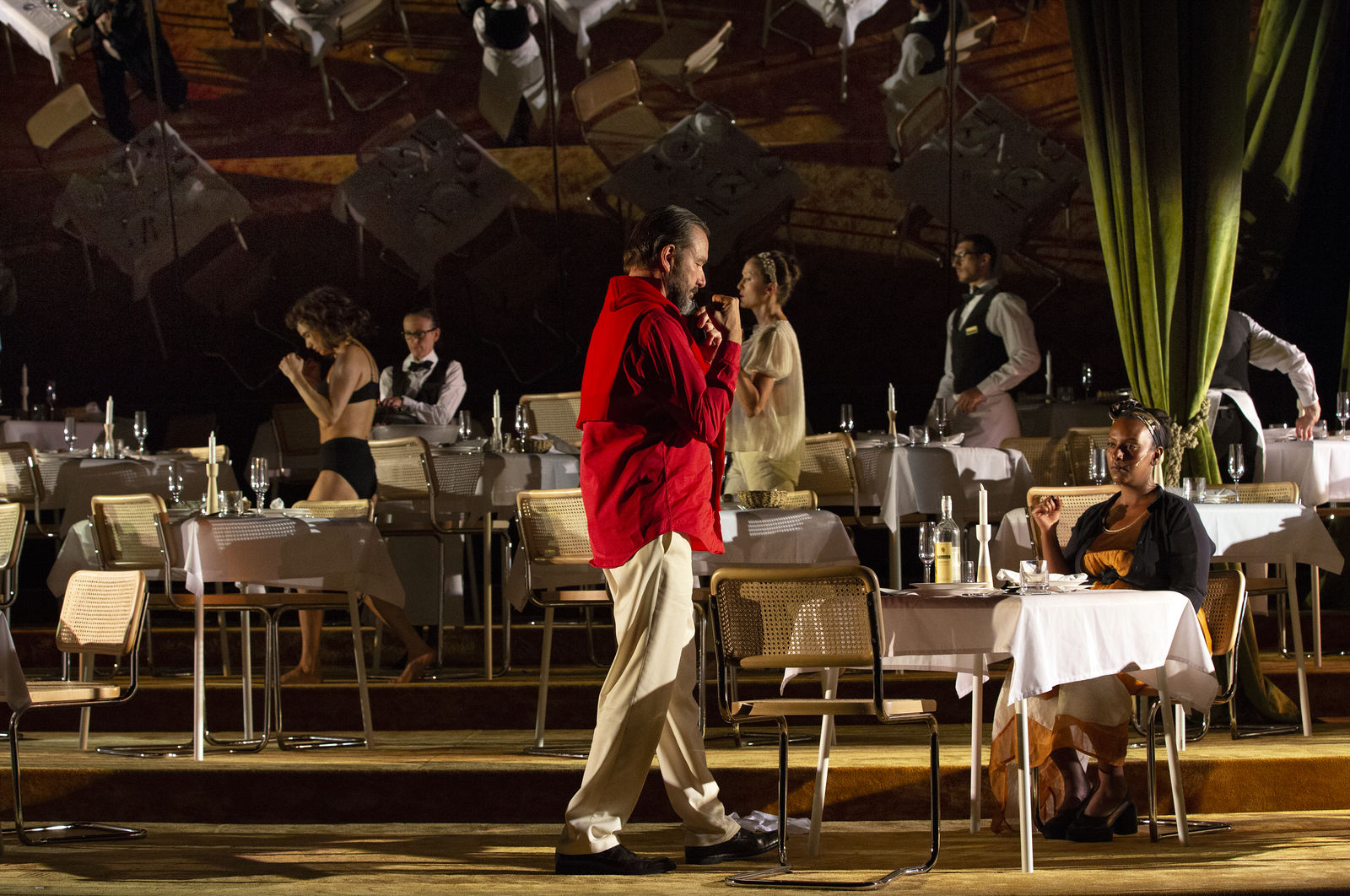 Reigen
By Lydia Haider, Sofi Oksanen, Leïla Slimani, Sharon Dodua Otoo, Leif Randt, Mikhail Durnenkov, Hengameh Yaghoobifarah, Kata Wéber, Jonas Hassen Khemiri, Lukas Bärfuss
After Arthur Schnitzler
Staging: Yana Ross
100 % polo shirts
69 % power play
0 % sex
*** World premiere: 28 July 2022, Salzburger Festspiele ***
In La Ronde, premiered in Berlin in 1920 to great scandal and forbidden by its own playwright to be performed until 1982, Arthur Schnitzler dissects the masks of a society. Long leading a double life as a physician and artist, he uses his literary psychology to examine the anatomy of the so-called "soul". Underneath it all, sex always emerges, as Schnitzler's model deals with pre- and post-coital conversations. In La Ronde, prototypical figures of Viennese society make love in a kaleidoscope of ways that cut across classes, ages and genders, secretly uniting those who otherwise cannot come together in the publicly acceptable societal order.

For Yana Ross's production, ten internationally renowned authors bring the material into the present day: Lydia Haider, Sofi Oksanen, Leïla Slimani, Sharon Dodua Otoo, Leif Randt, Mikhail Durnenkov, Hengameh Yaghoobifarah, Kata Wéber, Jonas Hassen Khemiri and Lukas Bärfuss have each rewritten one of the ten scenes of Schnitzler's play. Using their reinterpretations, each of which resonates in its own way, director Yana Ross is hot on the trail of our zeitgeist, asking which masks of today are in need of dissection.
Staging

Stage Design

Márton Ágh

Costume Design

Music

Knut Jensen

Video

Algirdas Gradauskas

Light

Tamás Bányai

Dramaturgy
A coproduction with Salzburger Festspiele
Supported by Georg und Berta Schwyzer-Winiker Stiftung
2 hours 20 Minutes, no break
Zürich-Premiere: 17. September 2022, Pfauen
Pfauen
🛈 Introduction 30 min before the play on 19.9., 23.9., 30.9., 4.10., 5.10., 13.10., 15.10. and 24.10.

Triggerwarning: This production deals with sexist, misogynistic and homophobic violence that can be retraumatising (including the description of a rape and stalking). Among other topics, the play addresses war, and uses a weapon as a prop. Recommended age: 18 years and up.
Introduction: Laura Paetau, Dramaturgy
Data
Sunday 02.10. 15:00 Pfauen
Tuesday 04.10. 20:00 Pfauen
Wednesday 05.10. 20:00 Pfauen
Thursday 13.10. 20:00 Pfauen
Saturday 15.10. 20:00 Pfauen
Sunday 16.10. 16:00 Pfauen
Monday 24.10. 20:00 Pfauen
Sunday 30.10. 19:00 Pfauen
Sunday 13.11. 16:00 Pfauen
Image gallery & Videos