News
03. June 2023
Emotional last show of the audience hit Riesenhaft in Mittelerde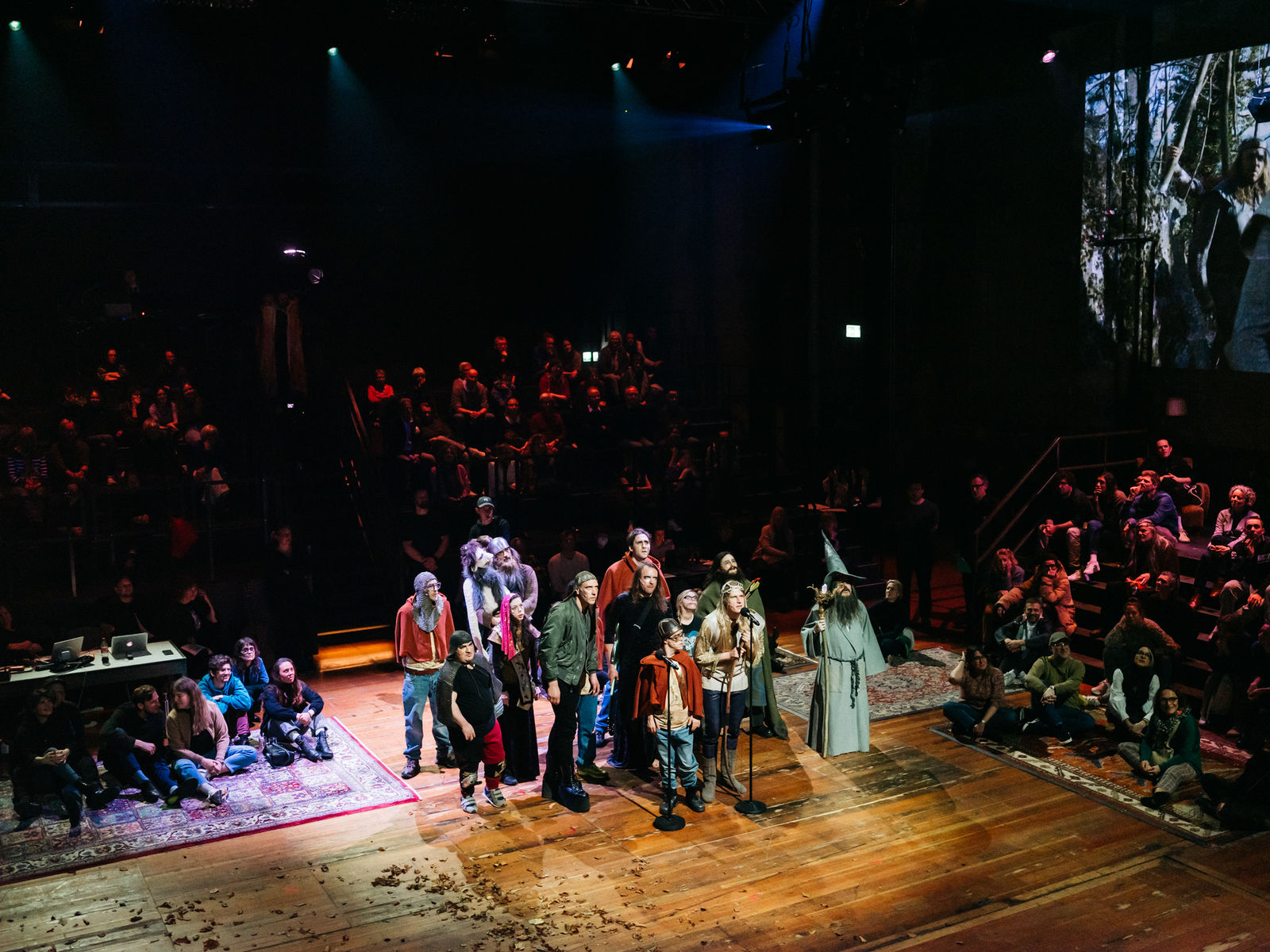 Thunderous applause, tears and the dream of a revival: On Thursday, Riesenhaft in Mittelerde™ based on The Lord of the Rings by J.R.R. Tolkien celebrated its last performance. The accessible production by Theater HORA, Das Helmi Puppentheater and Schauspielhaus Zürich, directed by co-director Nicolas Stemann, Stephan Stock, Florian Loycke & Der Cora Frost, was not only a "spectacle of superlatives" (CH Media), but also an unparalleled audience success
After the premiere of Riesenhaft in Mittelerde on 22 April 2023, the press reviews were overwhelming: "An installative Gesamtkunstwerk on various levels. What fun!," wrote SRF. "Theatre that is addictive. (...) One of the greatest, most exuberant things you can experience in theatre at the moment," added the Süddeutsche Zeitung. The NZZ declared the accessible production by Theater HORA, Das Helmi Puppentheater and the Schauspielhaus Zürich a "overall artistic fantasy spectacle" and the Züritipp demanded: "Go there!"
And people did: Young and old, Tolkien fans, music enthusiasts and a conspicuously large number of children flocked to the Schiffbau Halle not to miss the theatre festival. "The rush was so great that we had to increase the capacity several times," says co-director and director Nicolas Stemann happily. "We started with 300 spectators, in the end we let almost 400 interested people into the Halle." Despite this increase in capacity, the box office had to turn away dozens of interested people every evening; the last performances were completely sold out.
The euphoria and joy of the actors and actresses was transmitted to the audience, many sang along, contorted themselves for the final choreography and stayed for a drink or a dance in the "Shire" even after the end of the production, which at 2 hours 30 minutes was not exactly short.
Emotions ran particularly high at the final performance: thunderous applause, tears, performers and audience members in each other's arms. "What we were able to put on here together with our friends from Theater Hora, the Helmi Puppet Theatre, the musicians and thousands of audience members is something I have never experienced in theatre before," says Nicolas Stemann. They hope to stage the play again next season.