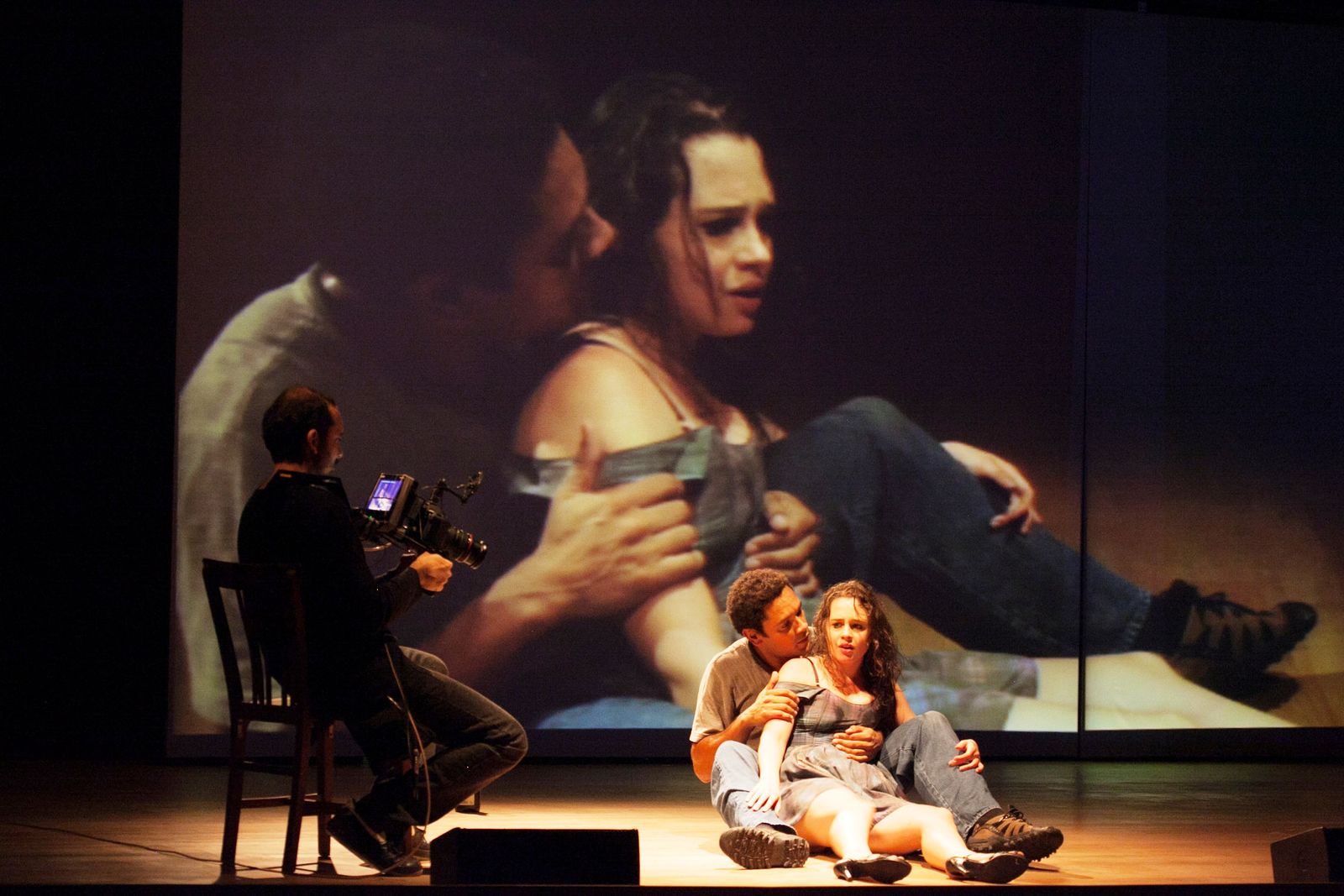 Julia / What if they went to Moscow? /
The Walking Forest
After: August Strindberg, Anton Tschechow & William Shakespeare
Staging: Christiane Jatahy
The Brazilian director Christiane Jatahy likes to cross the borders between theatre and film. In the three pieces of work that the Schauspielhaus Zürich is showing as a trilogy to mark the beginning of several years of planned collaboration with the artist, the action on stage and filmed live images develop in parallel, combine inextricably with each other and mutually complete each other. It is not just the performers, but also the audience who move through two realities: one real one, which shows them at work or looking on, and a fictional one, in which they all together become a theatrical event. The basis for these works is a series of canonical texts which Jatahy renders legible for our time: Julia is an adaptation into a contemporary Brazilian setting of August Strindberg's play Miss Julie, What if they went to Moscow? is based on Anton Chekhov's Three Sisters, and The Walking Forest is a reworking of Shakespeare's Macbeth. The element that connects all three plays is the actress Julia Bernat, who leads us from an intimate family setting in Julia to the broad political public arena of The Walking Forest and, together with her colleagues and the audience, explores questions of wealth and class, gender and race, power and oppression, until finally, in her last monologue, she raises the question that the first two plays already ended with: "What can we do to really change things?"
Christiane Jatahy is hardly an unknown quantity in Zurich: Julia and What if they went to Moscow? have already been performed here. But Christiane Jatahy wanted to show these plays once more at the start of her collaboration with the Schauspielhaus Zürich, which is initially planned for three years, but this time to show them within the framework of the whole trilogy that connects them and also includes The Walking Forest. Another connecting element that gives some further new context to these three plays in the Schauspielhaus is their particular focus on Jatahy's home country of Brazil, where radical upheavals in the political landscape are painfully raising once more the question of how people can live together.
Christiane Jatahy is an associated artist of the Schauspielhaus Zürich, the Odéon Théâtre de l'Europe, the Centquatre-Paris and the Théâtre National Wallonie-Bruxelles.
Schauspielhaus­-Premiere: May 2020, Schiffbau-Box
In Portuguese with German and English surtitles.
Image gallery & Videos