Staging Sounds.
An Interview with Asma Maroof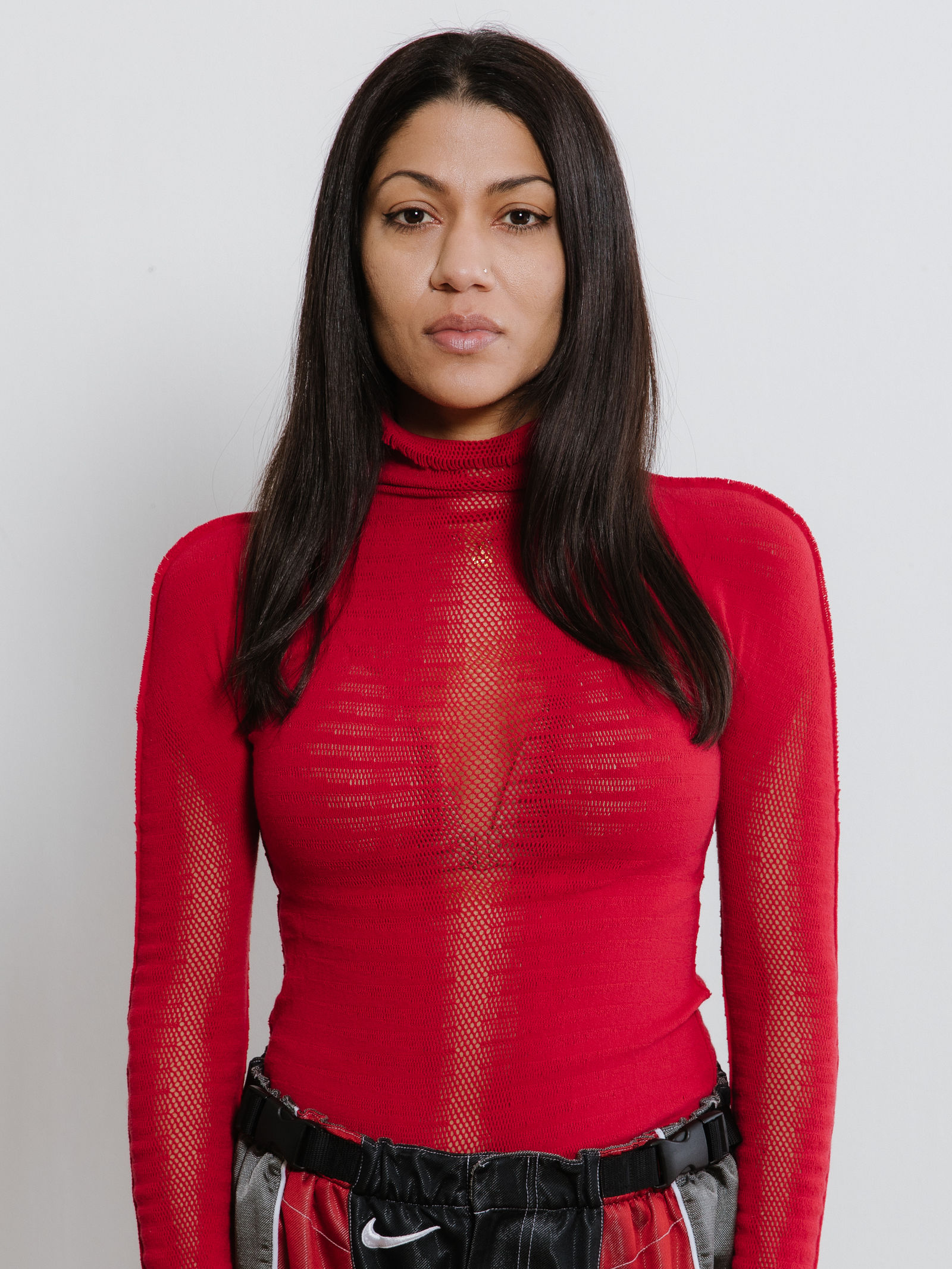 In 2019, the producer, DJ, and event organizer Asma Maroof moved from Los Angeles to Zurich to join the new ensemble at the Schauspielhaus, a local theatre institution. For her work in projects such as Nguzunguzu (with Daniel Pineda) and Future Brown (with Fatima Al Qadiri, Daniel Pineda, and J-Crush), she enjoys a stellar reputation that goes far beyond her musical niche. Long before the phrase "deconstructed club" had gained currency, Maroof and her collaborators were bringing together R&B, grime, and different contemporary pop styles. For more than ten years, Maroof has been Djing under the name Asmara in various contexts, from clubs to the MTV Video Music Awards to tours with MIA. Her sets invoke stories from the heart of a rich tradition of electronic club music within the diasporic United States. Her preference for collaborative work shows in various projects and events. She sees her role as a member of the ensemble at the Schauspielhaus Zürich as an important step in her development as a composer for both film and theater.
Anna Froelicher met Maroof for a glass of orange juice in the less noisy part of a trendy bar in Zurich to discuss her working method as a composer for the stage, the difference between a DJ set and an evening at the theater, the meaning of the word "underground", and the equal value of all things sensual. The interview was originally conducted late in 2019 for the magazine zweikommasieben. We publish it again in Schauspielhaus Journal, before Asma Maroof will play a DJ-set at Pfauen for the next edition of Graveyard Shift.
Anna Froelicher

Anna Froelicher: What have you been up to recently?
Asma Maroof: I just came back from Berlin. I was there to work with Kelela in her studio. I love working with her. It's always different, sometimes I write lyrics for her, or do production. But this time, I was mostly there to be this person who is saying things like "Oh, this beat is really cool to sing on" and then she will sing and we talk about it after, or she will do something else that is interesting and I just respond to it. Sometimes it's just nice to have a partner in the studio who can be assuring when it's needed—because you don't always know yourself when and if you're moving in the right direction. I also like working with her, because I've always wanted to sing—but I don't sing. When she sings I get to react to her voice in the way that I would hear it. I truly am committed to her sonic world. We have known each other for a long time already.
AF: From your time at art school in Chicago?
AM: No, I met Kelela in Los Angeles, around 2012. I met a lot of my friends and collaborators there or back in Chicago, such as Daniel [Pineda], one half of Nguzunguzu or Wu [Tsang], who I'm working with at Schauspielhaus Zurich at the moment.
AF: Can you shine some light on how you became a part of the ensemble at Schauspielhaus Zurich and what your activities at the theatre encompass?
AM: When the new directors of the theatre were installed last year, they invited my longtime collaborator and friend, artist Wu Tsang to be one of eight directors in residence at Schauspielhaus Zurich. The eight directors were able to bring their own crew, and that's how I got to be part of the ensemble. I'm there for covering sound and composition obviously, but also to perform. In addition to that, I organize parties and lounge events. With Wu, I've collaborated for over ten years now, but only on film, so I'm just trying to get used to theatre, because this is quite new for me. I'm excited to compose specifically for the stage. I know how to compose for film, I produce my own music and I DJ, which all blends into each other to a certain degree. In that sense, it's no big step that I'm working in theatre now. It feels like an easy transition, but uncomfortable and different at the same time.
AF: What are the most significant differences to how you acted in your own artistic practice before?
AM: It's mostly how to think about and act in time and space. In film for instance, people sit down in the movie theatre and watch, nothing happens in real time, everything is scored for a time-based medium. When I DJ, I'm reacting live to the crowd, the space, and whatever else. These variables are very similar to what I'm doing in theatre, but in contrast to when I'm DJing, there are certain cues I have to hit for the actors or the dancers, for them to know at which point in time they are in the show. I'm not just responding to an image like in film, or am as free as when I'm DJing, when people are just dancing. In theatre, there are rules, but there's a lot of freedom within those restrictions. I am in-between the worlds I knew before.
AF: You have a score to follow, but within that score you are free to improvise?
AM: For the pieces we did so far with Moved by the Motion [Wu Tsang and Tosh Basco with cellist Patrick Belaga, dancer and choreographer Josh Johnson, Asma Maroof, and others], we're improvising—but for that we're very much rehearsed. I know what sounds I'm going to play, I just don't know for how long or where in the overarching time. And within this we have a lot of variables to deal with: lights, dancers, scenography, and so on. I'm sounding like it's difficult, but I actually don't perceive it that way! It's the right step I took right now. And that's what I like about the way we are working together, because it is very much connected to what we already have been doing. It doesn't feel so removed.
AF: How do you work together as a group?
AM: For the Composition series, we start with a collective reading. We call it a study group, we all read and dissect the text that we are going to use for the piece, which is a demanding and long process.
AF: Your common ground is a text, but each one brings his or her response to it?
AM: For Composition I and II, we read come on, get it! a text by Fred Moten, another longtime collaborator of Wu's. I'll get sonic ideas from it, or for instance boychild will get ideas for movement. Then we all carry them out and bring them together and see what works and what not, then we go back to the text, etc.
AF: Like a feedback loop?
AM: Yes, cause and effect. For Composition I [premiered in January 2020], we started working on it in October. From that until January, we had a lot of meetings and readings, trying to understand the text in a different way each time. We read the text like 25 times.
AF: Is this also your style of working when you're working on your own music?
AM: When I'm actually making the music, it makes no difference, if it's for an album release or the theatre stage. I'm in my studio, all by myself, making stuff. But the difference with my experience in theatre now is that I'm constantly going back to the other group members, playing the things I did and receiving their feedback. Then I'll go back to the studio and start working on it again. When I'm producing for my own EP, I wouldn't be seeking this feedback all the time, only when I specifically ask people what they think about it. For the stage, I'm making a lot of little pieces, they're not really songs, but more emotive, ambience sounds. It's about building space with sound, setting a mood. I don't even have to be that heavy handed with melodies.
AF: Heavy handed in the sense of?
AM: Melodically. You don't want to take up too much space, because there are so many other variables. I'm reacting to lights, voices, and bodies. There is more of a structured idea how to make it.
AF: This reminds me of a score you produced for Into A Space of Love, a very sensual documentary movie by Wu Tsang in collaboration with Frieze and Gucci. While I was watching the movie, I felt the music was very present but at the same time it's not dominating all the other elements. There is truly a sense of equality to it.
AM: Coming up with the musical score for Into A Space of Love was really fun. The movie is about house music in New York, so I was able to reference to a genre in a very literal way, but also morphed this reference into its own space-out version. Usually, I can't or won't be that literal, but doing this was quite nice.
AF: The film deals with an underground world. It portrays a culture of opposition—or in less regimented words—a culture of outer societal freedom, which is connected and responding to political suppressing structures and events in society. When I first heard your music in clubs, I couldn't say these were underground clubs even though they maybe would have liked to call themselves that. How is your connection to the word "underground," what does it mean to you?
AM: I feel connected to the word underground, because it's describing something to be outside of the box or literally under the box. I think it's cool to exist under what you think is actually happening. It's at the root of something; I feel planted in that idea and space. Not everybody is aware of it, only a selected few people know about it. But if you know, then you know. I've always been attracted to things that were like that. Visually, sonically, just across the board. A lot of pop culture would not exist without the underground, but at the same time, I don't think too much about it—you just have to do what you do. Whether it becomes a top 40 hit or if it's a shitty song that no one ever listens to, you never know. When I make stuff, I just want to have infinite possibilities for what can emerge out of it.
AF: Underground also means no budget, no stability, precarious spaces and bodies, a lot of uncertainty. How do you sustain in the underground?
AM: Uncertainty is life, isn't it? Nothing is promised and in that sense, the uncertainty of the underground is mirroring life. If you are asking if I am fine with remaining underground: I'm ok with that, I think you have to be when you come from where I am coming from. Of course, I would love to make something that will support me for the rest of my life. That'd be great! But at the same time, that's not what fuels me. It's not necessarily that staying underground is my goal or end-goal, but I don't mind if it stays like that forever. It's just like a little splash in the tidal wave. I do think, though, that the more people you can reach with your craft, the more powerful it gets. That's why I like to exist in many different spaces: I'm down for a lot of things and everything is morphing and shifting anyways. When I first started making music, I never even imagined in my dreams that I would be working at a theatre composing music. You have to ride the wave.
AF: I guess you have a lot of different plans and projects going on for your nearer future. Can you tell me of one which is important to you like right now?
AM: I like working with theatre a lot at the moment. I've always had this perception of theatre of more of a stashing space, where you sit silently and you need to act and be refined. But it's not like that. The theatre is a lot more open. The space where we presented Composition I in, was a lofted, kind of gutted space, there were squats on the top floor. It's not like there are draped red velvet carpets all over. I want our generation and younger people to get more into theatre, as I'm also getting into it more, and to dismantle the idea that theatre has to be only one sort of space. It's actually pretty cool and I want to breathe fresh air into what people's perceptions of an institution like Schauspielhaus are.