On Celebrations, Declarations and a Mind For Dancing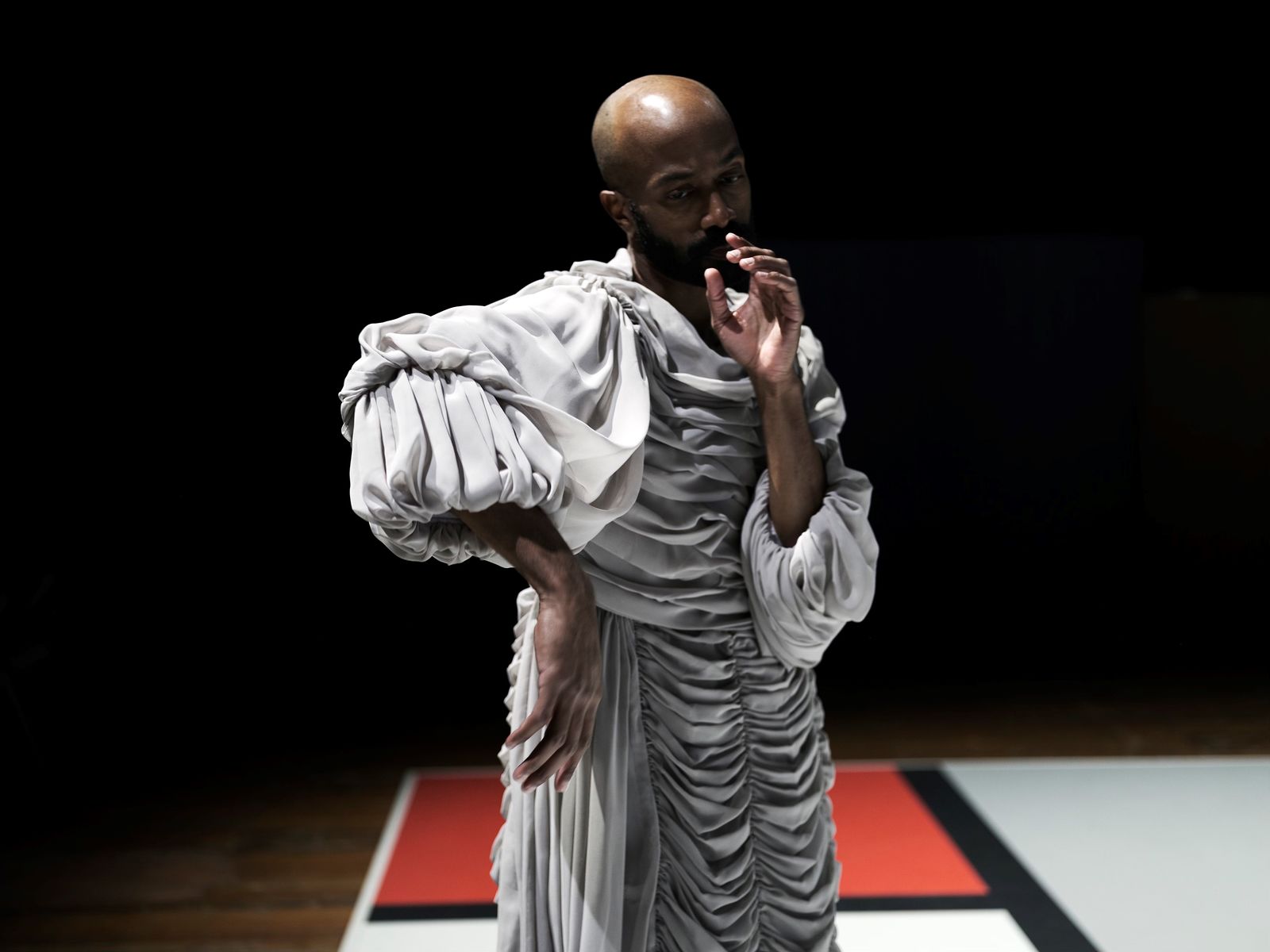 Dramaturges Laura Paetau and Tobias Staab in conversation with in-house director and chorographer Trajal Harrell.
published on 07. December 2021
Tobias Staab: At the very beginning, when we were talking what is about to come, you said that your next piece will be starting from nothing. It should just start as a gathering of people and we'll see what happens. What is left of that?
Trajal Harrell: I said it would start from nothing. I wanted to come with nothing and arrive without an idea. Normally, I felt I had to come to all my pieces with strong concepts and theoretical underpinnings, but this time I didn't pre-think it so much. I came out of Köln Concert (Premiere: September 2020) and Deathbed (The Deathbed of Katherine Dunham, premiere postponed from March 2020 and March 2021 to now March 2022), knowing that I had my research, but I didn't really know what it would become. I knew that I was bringing certain experiences into this, but I think that what's left is that I let all this stuff stay and I didn't necessarily make connective tissue. For this piece I also didn't boil everything down. There is a lot of stuff in the piece and I let it be for a while. Slowly though I am building some
connective tissue, it seems. Mainly because I'm bored by collaging dance and performance or theatrical scenes. I need some sort of formal precipice that engages the work in a larger movement structure and organization. I do see the piece as this dark celebration. That's what I see now, but I didn't come to make such.
Laura Paeteau: In your work you do the costume design yourself. What does clothing actually mean to you? And do you make a distinction between clothing and fashion?
Trajal Harrell: Well, that's always a part of my process. I also work on the sound design and set design. In Monkey I'm co-authoring the sound with Asma Maroof and the set as per usual with Erik Flatmo. All of those elements are a part of my creative process. I need to be fully engrossed in the space of the dance and the music. That said, it's the same with the costumes. Fashion to me is not just clothing. Fashion is a way of thinking about clothing in relationship to space, society and politics. It gives a certain framework that deals with a lot of issues in the piece. I do use clothing as a way to speak about behavior, identity and feelings. I use it as a material, but I need the performers to collaborate. It's important for me to put the performers in clothes that they feel like wanting to show off. I want them to feel like inviting the audience into their experience through this clothing and who they might be, and how they might move through the world. So there has to be a level of comfort and likeability that I have to sense in them. There is a certain sensitivity to that when it doesn't work. Sometimes it doesn't fit right and I have to continue to get what I want visually, but also to make sure that they're comfortable. It's always a balance. And it's a lot about dress up and playing, it's a lot about theater and fantasy. The question is: How do we get to the celebration and this fantasy of celebration? When we get there, it's very simple, but to get to simplicity, you have to go through several levels of complexity, because simplicity is complexity made simple. Celebration is also a very specific word; I think my
work is always about togetherness. In the theater it's very important to me that people feel we are together and I think that COVID just underlined that. We are really aware now of being together.
Tobias Staab: Is the darkness that you described something that arrived out of the experience during the pandemic or let's say life in general? I remember the three of us were also talking a lot about the things that are happening in life, the celebratory moments and at the same time the lust for intensity that seeks to go beyond and has destructive dimensions too.
Trajal Harrell: I didn't know how the piece would embody it; all of this wasn't the subject matter. We didn't take all the stuff from butoh which has been a long-term research for me. Nonetheless, I think it's still coming out of this work. I've been doing butoh and, like butoh, trying to give space for marginalized experiences: "the experience of the beggar, the prostitute, the junkie, the crook, the experience of old people" – I'm speaking in quotes here. The experience of the marginalized, how to give them visibility. I was trying to investigate those things from a real place of integrity and dignity. I was not making it subject matter per se. I really didn't know how it would get here but is has come into the piece somehow: it's here!
Laura Paeteau: I remember we were ending rehearsals and you had your hands over your head and you were saying to the performers: I cannot believe this, you are butoh. How does it come into the room? I was wondering: where does the magic happen and why do these people embody something that you have been working on for such a long time?
Trajal Harrell: I don't know, I mean, this would be a good question for them, because when I saw it, I felt like they had practiced. I felt like they had prepared, because they knew I did butoh, somehow people had done their own personal research and were ready to bring what they could bring to butoh. I thought it was weird that they were so good, because it was like they were waiting for me to say: OK, show me your butoh. It was just like that. I don't think it was about magic, I think it was about preparation. Magic to me is often a term to disguise preparation. I've been doing this stuff for a long time and a lot of the dancers are part of this work. I just feel they were ready. In the end it's also a question for them: How did they get there? I've been working since 1999 and the dancers who started working with me,
some of the dancers like Perle Palombe, Stephen Thompson, Thibault Lac, and Ondrej Vidlar, are people who started to come in around 2009/2010, so there are people here who've been with me 10 years or more. So there is runway movement in my vocabulary and to learn runway is hard. It requires a certain finesse and equipoise of walking, brought together with humor of course. But butoh is difficult in a different way. You can actually get it in 5 minutes and at the same time
this dance still eludes me. Maybe it will take me 50 years to become a butoh dancer. Sure, there are clichés of butoh or stereotypical movements or inflections, but, really, there's no set vocabulary for butoh. Butoh is a mind for dancing, it doesn't describe the dancing, it describes the mind for dancing. And it requires a different mental scape than say ballet, modern, or postmodern dance to get to dancing. For some people it can take 20 years and for some people it takes 20 minutes, 20 days, 2 years. You never know when butoh mind appears; you just have to see how it goes. So, I think in that way, it's a great tool. It's a great dance for bringing people together who have different experiences, because it's very democratic in that way. You can know nothing about dance and all of a sudden, you're a butoh dancer, because of a certain sophistication and maturity connecting the mind and physicality.
Laura Paeteau: You rarely work with text, how come this time? Why are you using the Declaration of Independence?
I have worked with text before in my career: Antigone, Juliet and Romeo, and Medea for instance. However, now part of the idea was that I had also the opportunity to work with other people in the Schauspielhaus ensemble besides the dance ensemble. It's a piece for dancers and actors. And I knew that I was going work with a large group: 17 performers, my largest cast-to-date. I just felt it was important to have not just music and dance but to have something that the actors were also used to work with. At the time, I must admit, I did not expect that it would be the Declaration of Independence. In my family we don't celebrate all the traditional holidays together. We don't come together at Christmas or Thanksgiving, but we do try to come together annually on 4th of July. Two years ago, 4th of July, I was not with my family and I decided to read the Declaration of Independence per the occasion. I probably hadn't read it since high school and I was just so blown away by it. At some point men, white patrician men, in the United States of America, which was actually not the USA but a colony back then, put into language such an opiniated, urgent call for freedom. They wanted to separate from the King of England, and I couldn't believe that they put their lives on the line with such words. It's such an act of treason what they say and how they say it, how they define independence, and how they
articulate the unjust treatment forced upon them by England. It was suicidal and to say it the way they say it, with such elegance. Of course, there's a lot of messed up stuff there too. They speak horribly about the first people, first nation people in what became the United States of America. But there is a strong sense of urgency and I wanted to see if we could find things that had that kind of urgency. I wanted to see what it was like to share this in a theater today, what it would be like in this togetherness. And I thought we are going to find that also in Switzerland, Germany, France, South Africa and so on. I thought we would find more texts like this that could be read on stage without sounding didactic, but it's rare. Or maybe we just aren't good at it.
Laura Paeteau: After the Declaration of Independence was signed, there were still 89 years of slavery and 144 years till the women's right to vote. In the preparation for this piece, we have been talking about social movements quite a lot and also specifically women's movement. The suffragettes are visible now through the costumes. How are these references coming into your work?
Trajal Harrell: Oh yes, they are in the show for sure. We problematize and immediately instrumentalize the Declaration of Independence for our own movements. I think that's very clear in the piece. I learned that we all have to come into being for the story to be told. All races, all genders, we all have to come into being. There are some things in the Declaration of Independence that we can take away. That's the truth of the matter, good and bad are going to sit beside the other. I come out of post-colonial feminist theory and you can see that. I can't make a piece that is not about that, it's always in there. It's in the costume, it's in the way we use the costumes. It's in the way we
use all the stage elements to tell our story here. I think even if we only used the Declaration of Independence, we'd re-think it in our usage. They wrote the text, but Black people were still not participants in this declaration of potential freedom, they were not even considered fully human. So how could they be free if they were not even human? And for the piece the important question is: How do we get to know the desires of all of us and come into being?
I think this piece is also a very special vision of me trying to deal with the vision of the Schauspielhaus Zürich. I mean, there was this vision of people being able to work together across disciplines and work with people that are maybe not in your immediate family, the art family that you brought here. So, the idea that I would do a production with 17 people, actors and dancers, was a potential part of that. How are we going to work all together?
Tobias Staab: You are building a dance company now in Zurich. How do you think this is going to change your way of creating and work here as a choreographer?
Trajal Harrell: I thought about it for a very long time. In my generation of artists, we didn't want companies. I came out of New York and by the time I was coming into the scene, it was really obvious that you couldn't afford having a company anymore. It was impossible, we were freelancers. We followed the idea that we were our name, so I was Trajal Harrell. I didn't do a Trajal Harrell Dance Company. Although there were performers who were an inextricable part of this – like the ones I named earlier and others, without whom I wouldn't have created the work I made and gained visibility. Though, at a certain point, I felt that it was time to have a company. We already were a company and it was time to acknowledge that. I think it changed my work in a way. There is a very clear style now, like in Köln Concert – we developed it and it's repeatable. When you have the frame, you can just keep digging deeper and deeper into it. It's grounding my work and I feel more comfortable to really go into dancing because we have the time to share our dancing. I know that these dancers are not just there for this one project, and leave for their next project. This sharing goes on. It has the promise of continuity. We can build something over time.
Tobias Staab: Do you feel you have arrived in Zurich now?
Trajal Harrell: I feel more and more Zurich is good for me. I really enjoy working here, it really gives me something very specific. I would've never imagined it but it's really grounding for me. I'm very happy to be building an audience here and I hope people keep coming to follow the work. I think we're really trying to build a home and it's a very particular thing to build a home for your work. I'm pleased to have found this here.