Directors Talk: Suna Gürler
and Benjamin von Blomberg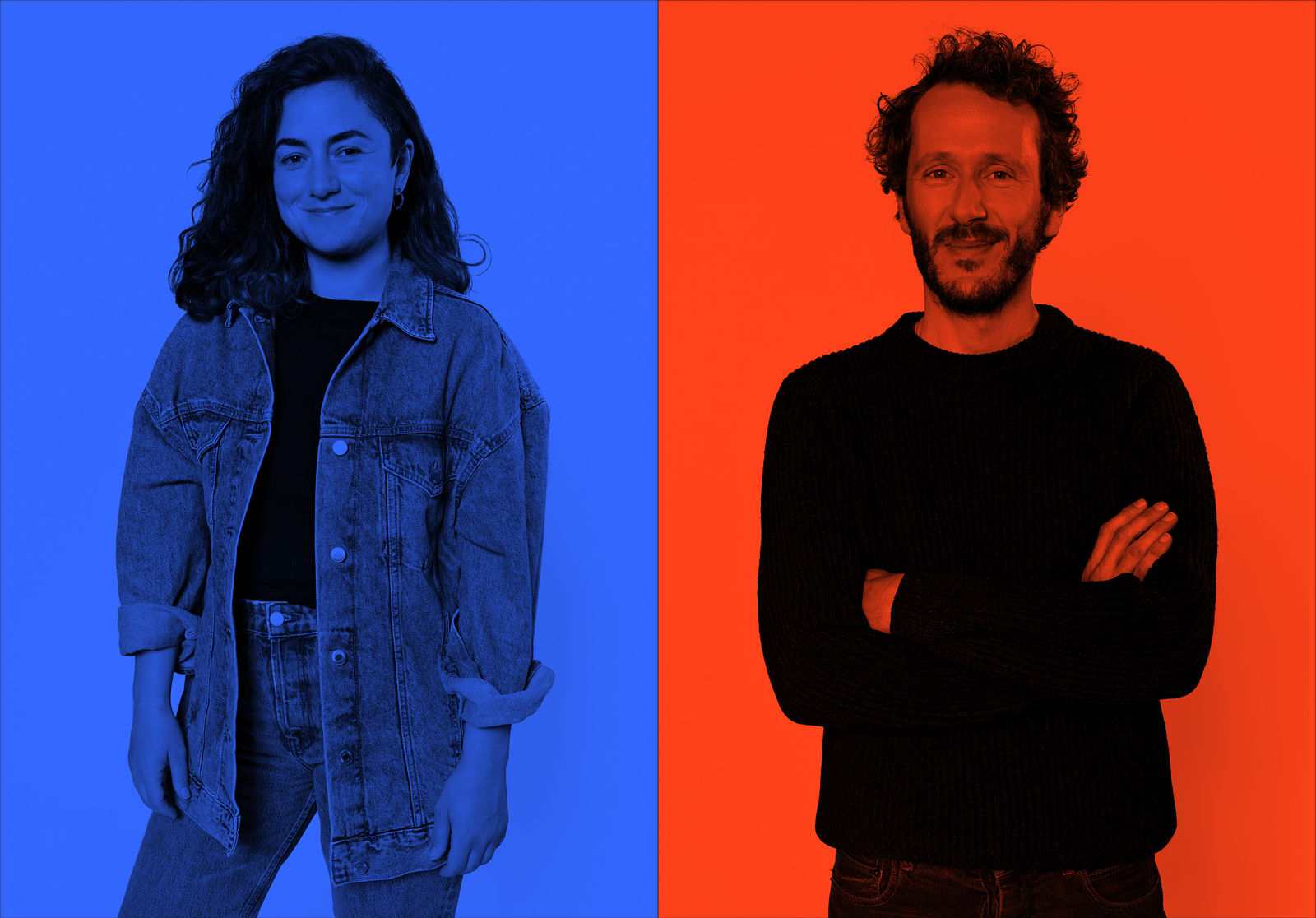 With the series Directors Talk you can bring our in-house directors Alexander Giesche, Suna Gürler, Trajal Harrell, Yana Ross, Christopher Rüping, Nicolas Stemann, Wu Tsang, and co-artistic director Benjamin von Blomberg along with you into the productions of the 2021/22 season in eight conversations. During the second lockdown they met on Zoom to talk about here, now, and tomorrow, mainly in pairs and once round-robin. The conversations are part of the season preview, which presents the 2021/2022 season and is available now in all our venues, as well as free to order online.
published on 14. August 2021
"There's a culture growing."
[18:00] Suna Gürler: Hello, you don't look very rested at the moment… Benjamin von Blomberg: No, I don't feel very either. But that's alright though. We're quite close in proximity to each other at the moment for a change because I'm also in the Pfauen. That's rather rare these days. I certainly feel very close to you in my imagination. And we really do spend a lot of time together. I really do feel that you understand what it means to help shape this institution. I'm very thankful for this sense of closeness. How does it feel to you, actually? How productive is this sense of being multiple entities as an artist, person, theatre-maker, co-director of theatre pedagogy, and a member of the direction for you? Yeah, I sometimes say that it's my tough luck that I'm interested in the struggle as a whole and how to solve this or that problem within the institution. I think it's a lot more difficult to stand up for the director within me because it's a very vulnerable, fragile position. I expose myself with my ideas that I bring to rehearsal. I think it's very delicate work, which I don't want to do combatively. There needs to be trust and openness and attention in the space in order be able to try things out. Sometimes it's difficult to flip the switch for a rehearsal after a meeting with the directorship. I come in with my armor on and… You know, sometimes I don't know how to take that armor off again. Sometimes it's much easier for me to bang on the table during the directors' roundtable and say, "Fucking hell, the youth clubs have to do this and that, why was that forgotten about? We have to fight for the spaces for these people and those people." That's not a problem for me. It's much easier for me to advocate for others than for myself. But now I'll throw the question back at you: How are you doing in your role as an artistic director for the first time? Almost two years as the artistic director, including the pandemic, and from being the dramaturg to the co-artistic director? Well … That's a big question … I'll put it another way: Are you still alive? Yes, I am, I am, definitely. I've actually always been dedicated to the fact that it's even possible, that people can work together in a good way and dare to work together in that way. That they dare to enter into this opening, that in doing so, they can be with themselves and be free, and that they are thereby together, in mutual recognition, for the collective process of becoming visible. That was always the task I gave myself and the one I liked. And I still try to live up to that now. What has definitely changed is that I have a much greater sense of responsibility, and that's very demanding. But what drives me is that everyone is happy, finds themselves in their positions and feels that they can thrive. I know, it's a rather presumptuous and naïve hope. And it's not always successful, sure. I make mistakes. I don't make everybody happy. I can imagine that you had an inkling that something like this was on the horizon. Was this intensity a surprise to you after all? Yes, definitely! For example, it's insane how slowly one's perception of oneself transforms. The artistic directors I've worked with up until now acted like artistic directors. They walked, talked like artistic directors, they had the repression of an artistic director. I cross the street and still think: I'm not an artistic director. When I speak, I think: I can't be an artistic director. The fact that the image of a co-artistic director forms for some people from the outside is perhaps quite a good sign, even if it doesn't feel that way on the inside. And I'm still getting to the bottom of it for myself: How far do I have to go in becoming an artistic director in order to be an artistic director? I think that's interesting: the physicality that you described is descriptive of a classic male leader. So I hope you don't change your physicality now, because it's nice that someone's breaking the stereotype. The thing that encouraged me to become a director was another director, Ives Thuwis¹, who also didn't have that dominant aura. Who also said things like "I don't know" during rehearsal or, "let me think for a second" or, "I'm at a loss." Or that he sometimes just couldn't – bam, bam, bam! – slap down his concepts, but very carefully described and emphasized the fact that he didn't exactly know what direction the search was headed. That's what first enabled me to think that way, because as a teenager, I always thought that you have to assert knowledge, assert dominance. That's why I think role models like that are very important. So, keep crossing the street in the lanky way you do. I promise I will – if you only knew how much I'd like to be able to walk as gracefully as Ondrej [Vidlar] does! I think the beautiful thing about theatre as a place, and as a way of living, can be that people with very different approaches, very different talents, looks and feels, and temperaments can find their place. And my instrument which paved my way surely wasn't my gait! It was, rather, my observation skills and my language faculty – well, if I don't have to speak English, by the way. That's pretty horrendous, woah! Sometimes I also thing "whew!" It's simply a double workload again! Yes! But what I'm getting at is: With all of the work I have on my plate, I'm happy to be in this place. I think it tries to be hospitable to people and in doing so to me as well. And another observation: I'll put it as an assertion and then ask it to you as a question because you might perceive it differently as a woman. When I look at all 300 employees, I don't think there's that much masculine bam bam bam rumbling at the theatre. I don't know if you feel the same way, but it's also connected to the Swiss mentality for me: To make an effort to be polite, to not be too loud, and to not humiliate others. Do you share this assessment? I don't, unfortunately. But it's interesting: Swiss toxic masculinity probably comes across differently from German toxic masculinity. Describe that! It's just different. Germany energy is louder, more expressive, you can make that generalization. Swiss energy is quieter and slower. But in Switzerland, women are also interrupted more when speaking, their ideas are ignored and repeated by men, and then suddenly get recognition. It's the same way here too. And that's an issue here at the Schauspielhaus Zürich as well. But that's steadily being broken down here. I feel strongly that one's own work culture be questioned and worked on, that conflicts aren't swept under the rug. There's a culture growing. But I'd be lying if I said that I don't experience that here and that I feel that I sometimes still have to fight harder to be heard. There was a moment… or do you want to say something about it first? At the theatre, directors' works are consistently referred to by the last name. "The Giesche workshop," "the new Rüping production," "Stemann's play" and so on. But Suna is Suna, Leonie is Leonie, Yana is Yana. You would never say "a Ross production" or "I was at the Böhm rehearsal." You need to pay attention to that. Really? I think you're right. I'm totally right. Crazy! Imagine talking about Gürler, "the new Gürler production." But do you know why. Hold on. Okay, nope. I don't have a reason for that. Haha, yeah, there is one: the patriarchy. During my last years in school before completing my Abitur, I went to a boy's school, and everybody there always addressed each other by their last names. I hated that, really hated it. I thought it sounded so tough and rude, there was something elitist and impersonal about it. There are thousands of examples like that in everyday life. Male dominance simply exists. It would be very, very, very remarkable if it didn't exist. I've never experienced that. We don't know any differently, that's our culture. You read every day that the first woman was elected there, oh, a woman, ta-da!, the fact that I'm a woman director, oh wow, Ms. Director. But really, everything we do as women in this world that doesn't have to do with child-rearing, caregiving or prostitution is just simply a men's domain that we're entering into. And that's where we are right now. The world is being shaken up. It's changing, there's an ingress happening. We now have two weeks of paternity leave. That's the way it is with every other issue: there is a dominant society, there's a supposed norm, and it's being deeply questioned. That's what we're also dealing with here at the Schauspielhaus. The thing that was mentioned in different works here at the theatre or during the panel discussion Exit Racism is that the Schauspielhaus is a traditionally white institution and that it can't simply be argued away. That's the way it is, and we're finding ourselves becoming aware of what that actually means. I very much appreciate that active discrimination-critical work is beginning at the theatre. One insight from this process was certainly that I can't assume that I create the right space down to every last detail for everyone here – in the complete depth of knowledge around the diverse perspectives and sympathizing with them. Your skills aren't universal. Somewhere along the line, there was a sense of self-assurance in my practice. I thought I had all of the skills needed to be a good partner to others. And I certainly still have skills, but it's still crazy how the veil has been lifted before my eyes. And I want this uncertainty, I want to see it as productive. But first of all, it's still just a tangible sense of uncertainty. For example, in one moment, it suddenly became clear to me what kinds of partners you must have had at the post-migrant Gorki Theater in Berlin. And the fact that we're your partners now, Nicolas and I, the two white dudes, but very different in terms of our diversity, just to put it like that. I learn something new every day. And that's why I'm extremely happy that there are so many people here who everybody can learn from. There are already so many different voices here which are making this project their own; which are helping to diversely shape this institution in concrete ways and develop and implement visions; ones that bring us together and don't separate us. I'm really proud of how we used the time during Covid-19 to continue working toward a cultural change. But it's still a crazy road for me and a gigantic road for the institution as a whole. We've lost the taken-for-grantedness, in a really good, totally unsettling way, I'd say. Can you relate to these descriptions? Absolutely. Yes, yes. Right now there is a movement in society as a whole that says that there is no such thing as a norm. That is, this supposed neutrality from where we make theatre, write plays, stage plays and perform. And that there are no neutral actors, but that all people belong to categories. We speak from a white point of view, from a Black point of view, from a queer point of view, from a poor point of view, from a rich point of view, there is no norm. I think that's really great. I have no objection at all to white, male artistic directors. Great, they should have a spot too. But it's really important that we understand that this is not a neutral position, but a very specific demographic group. If you were to cast directors from German-speaking countries for a play, you would have the same role with the same type a thousand times over. You should stage a play with all white artistic directors! I'll add it to my to-do list. Good. That would be great. Suna, I look forward to our continued collaboration. I look forward to closeness and many role changes. "Swapping?" You mean deceptions? No, I mean switching roles. I could well imagine the two of us switching roles one day. I also think that you or Yana or Christopher would make really great artistic directors. And I can think of a few other candidates. I also have a great one by my side. I was about to say that I think it's actually a good idea for an institution like this one to switch roles. But then I must ask, quite provocatively, whether we'd also switch our wages? Absolutely, we'd have to do that. Thank you, Suna. Thanks for the conversation. Nice seeing you. Bye, bye. See ya, ciao. [19:19]