Acclimatization
Ein Theaterstück von Mahin Sadri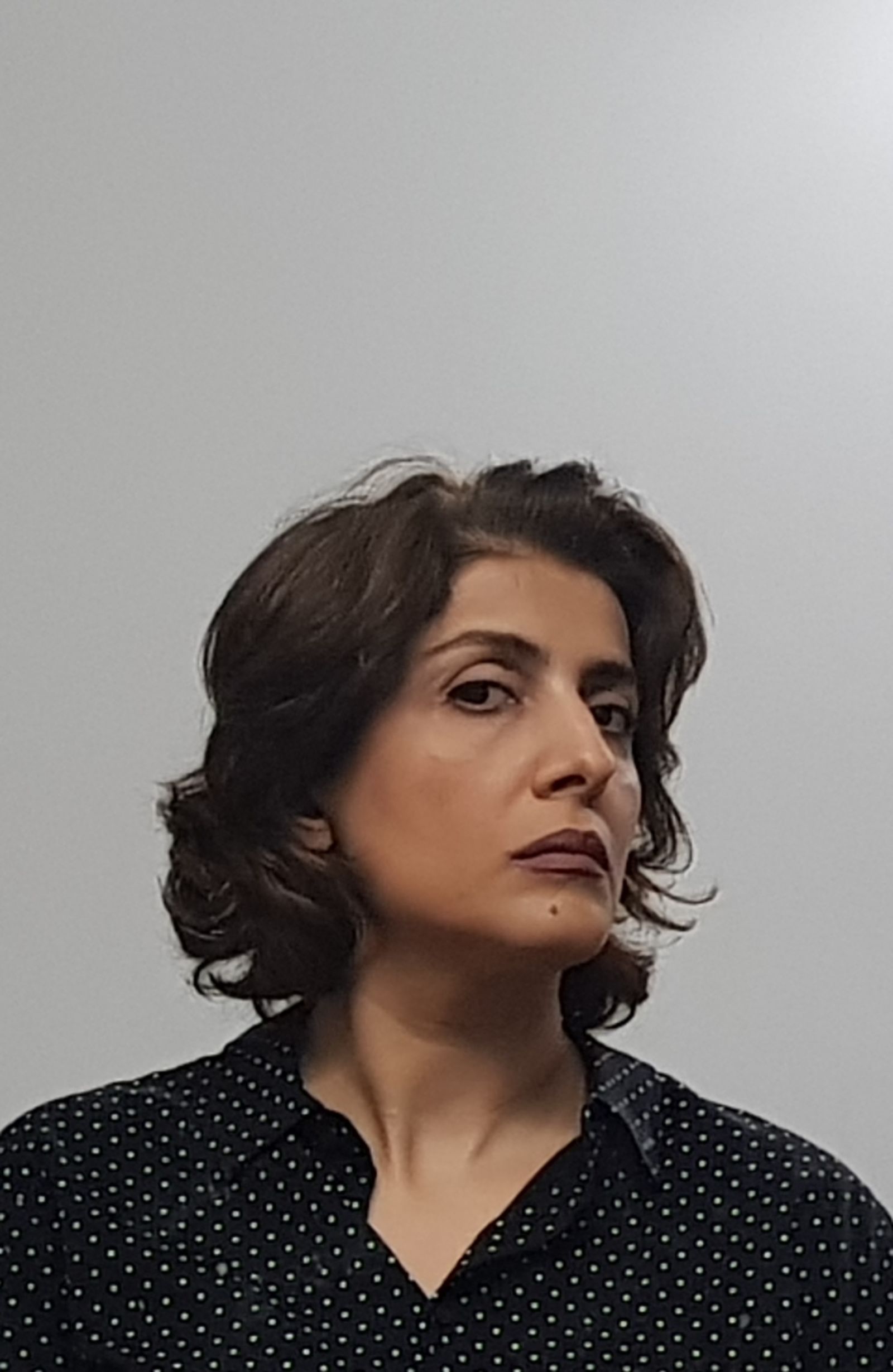 Seit vielen Monaten gehen iranische Oppositionelle auf die Strasse, um das radikalreligiöse Mullahregime zu stürzen. Viele Menschen sind gestorben, aber die Proteste haben bis heute (Anfang Dezember 2022) nicht an Intensität verloren. Seit Beginn der Unruhen haben iranische Künstler*innen es noch schwerer als zuvor, unter annehmbaren Bedingungen zu arbeiten, denn die Repressionen durch das Regime richten sich im Besonderen gegen diejenigen, die Symbole und Geschichten erfinden, hinter denen sich die Kämpfenden versammeln können. Besonders weibliche Künstlerinnen haben angesichts der massiven Frauenfeindlichkeit der iranischen Regierung kaum noch Arbeitsmöglichkeiten. Eine dieser Künstlerinnen ist Mahin Sadri. Sie ist Journalistin, Schauspielerin, Autorin und Regisseurin für Theater und Kino. Wir drucken hier die ersten Seiten ihres hochgelobten und ins Englische übersetzten Stückes Acclimatization ab, das anhand der Biographien von drei Frauen vierzig Jahre iranische Geschichte abbildet.
Bei Interesse, den kompletten Text von Acclimatization zu lesen, schreiben Sie bitte an dramaturgie [​at​] schauspielhaus.ch. Gegen eine Schutzgebühr von CHF 8 schicken wir Ihnen das PDF des gesamten Textes gerne zu. Auch ein weiteres ins Englische übersetzte Stück von Mahin Sadri, Second Person, versenden wir auf Anfrage, gegen dieselbe Gebühr.
von Mahin Sadri
erschienen am 07. Dezember 2022
Translation: Samaneh Ahmadian
Characters: Mahnaz Dalir Rooy Fard / Shahla Jahed / Leyla Efandiyari
The radio is on: "Our Iranian brothers and sisters, attention! In the name of God, according to our statement, we announce tonight after 12 PM, Our timely alarm will end and we have no further commitments to Iranian people and we will choose the right time to destroy the certain aims in Iran. Baghdad, Voice of Iraq"
Three women on stage, talk one by one.
Mahnaz: We got married on November 8th 1979 and it was almost one year past our marriage. Saeed had come to Tehran on a mission and took me with him. We were staying at my aunt's house. Her husband was also in Air Force. In the mornings, Saeed went to the base and I stayed with my aunt, when Saeed returned. He was here about three. By that time we have had already ate lunch.
I remember that my aunt had made kebab in that day. I was preparing Saeed's lunch and tea. He loved tea and drunk it hot. I brought the skewers. I put the kebabs in the plate. I put some rice on it so it won't get cold. I always had to put some butter in his plate. Otherwise he wouldn't like it. I was busy setting the table, the phone rang. They were asking for me. I got the phone. I thought it's Saeed, but it wasn't. It was a man calling from Mehrabad Airport. He was a pilot like Saeed. He said: "Tell captain get to the base soon as." I said OK. After that, I was putting some egg on Saeed's rice that he arrived. While he was washing up, I told him he had a call from base and what they said. He said: "But I was there just right now". He called them. I was sitting in the corner and staring at him. He talked shortly and hung up the phone. He got white like chalk. I was frightened. I asked him: "What has happened?" He said: "Nothing." I asked again: "For God's sake, tell me."
Shahla: What was that sound?
Mahnaz: He said: "The war has started."
Shahla: My mom was running out, holding her head. All the neighbors in the alley as well. My mom ran back inside to put a scarf on. One said it's a gas explosion in someone's house. We have no idea what it is. Everyone is confused. Then the siren is on. Radio says they have attacked the airport.
Mahnaz: I have never seen a war. How was I supposed to know anything about it? I just have seen it in the movies. I said to myself it will be finished soon. But Saeed was so worried, couldn't sleep at all, Smoking lots of cigarettes. I was insisting to stay. "Don't send me anywhere. Let's be together." But he kept saying: "Staying in people's house? I can't come home." He said: "Go to your moms. This war would be finished in a while. Then I will come after you."
My brother came to take me to Shiraz. All the flights had been cancelled. At the bus terminal, holding a heavy suitcase. I didn't want to leave at all. I just followed my brother, crying. The terminal was crowded. It was evening. We were getting on the bus while the siren was on again. They turned off all the lights. People were crashing on each other, a total mess. Every one was scared to death. It was like the end of the world.
Leyla: They alarmed, announcing red position. They said: "Turn off the lights so the Iraqis won't bomb you."
I have to write my home work under a candle's light. Today in school they taught us when the alarm is on, lie down and take your head like this. Dad made an X on each window with tape, so the glasses won't tear down when they bomb.
Mahnaz: Finally after a month, Saeed came to Shiraz, sitting in his mom's guest room. People came to visit him consistently. He was anxious and smoked continuously. They were just asking: "What's going on? Where are the Iraqis now? When the war will be over?" He said nothing. I handed a cup of tea to his brother and he took it for him. From the kitchen I was watching him. How old he got in this one month!
Shahla: They have built a shelter in our school's yard. We love the siren so we could leave the class, jump to the yard and get into the shelter. I'm in junior high. I have a close friend, Fariba. Our fun in the shelter is to frighten other girls so they scream. We have a big Quran in our school. As the siren goes on, our schoolmaster runs to the office, takes the Quran and brings it to the shelter and reads out loudly. She always starts from the easy part (Quran verses). She doesn't care what the kids do. She hasn't yet reached (Quran verses) that the white status is on. We all run out of the shelter while she is still reading (Quran Verses). I said what I wanted to say.
Manaz: Finally, after three months, I insisted to go to Boushehr. I went to the base. Boushehr's base was very big and in that time it was the most beautiful one. Since we had lovely days there, it was like Paradise Island to me. It was full of colorful paper trees also Berry trees with lots of berries. When I got there nothing was the same. Everyone had left their homes. Most of them went to their hometowns. It was Persian Golf, so dangerous. In the base all the houses were bombard. The windows were broken. As I arrived home, I found everything covered with dust, the boot steps everywhere. Saeed hasn't been home at all. He used to go on mission very often. They said during seven years Vietnam war, no pilot flew as much as Saeed. He had more than 120 overseas flights in 20 months. Whenever they asked who is volunteer to fly, Saeed was there. He said: "I am in a better mental state than the others, someone else would definitely crash." I heard it from his friends that the Iraqis had offered a prize for my husband's head. I cleaned up the curtain and swept. I made Saeed's favorite food "Istanbuli rice". Saeed clothes were everywhere. I put them in the washing machine. I washed the bathroom and kept dusting until Saeed arrived.
Shahla: "…God is the Greatest, Khomeini is the Leader." The schoolmaster sings and we repeat. "The enemy thinks we are bloom of the spring. But our Leader said we are the battle's men."
Mahnaz: It was almost two years after our marriage. Saeed wanted a child, I couldn't give him one. He said we will cure and everything will be all right. We shouldn't tell anyone. I kept going to Shiraz from this doctor to another and came back again. They say there is nothing wrong. "Then what is it?" Finally they said I was pregnant. I remember clearly it was March 2nd. Saeed got the result of my test. He came and took me to the notary public. He had a house in Shiraz, with two walnut trees in the yard. He registered it to my name. I asked "What is this for?" He said: "It's the baby's present." He was so happy. Just like the world was given to him.
Leyla: I am in 5th grade. The teacher asks: "Who has written your homework for you?" I say: "Myself." She doesn't believe it's my handwrite. She tears the page. "You should write this lesson 10 times so you learn to do your homework yourself." I said nothing to my mom. Since I got home I'm just writing. It won't end. Everyone is watching the "Ayeneh" TV series. I just want to sleep.
Mahnaz: He was so happy. Just like the world was given to him. The Doctor said October 29th, but the baby was born one week late. A boy. Once Saeed saw the baby, he said "How dark he is." He was right, Amir's skin is like Saeed's. It's dark. In the hospital Saeed asked the staff to change his birth date. And sign it anytime before October, so he wouldn't lose a year at school. But they didn't accept. Saeed said: "I will fix it myself." We arrived home, he took the hospital's paper and changed the birth date to August 4th. With the same paper he got his birth certificate and named him Amir Reza. He always wanted a son to name him Amir Reza.
Shahla: The school gave us a ceramic moneybox. It's written on it: "War war till victory" They said fill it, we will send it to the front. I put my money in it. My brother brakes the moneybox to buy candy. I felt so ashamed.
Mahnaz: They had told him: "You don't need to fly any more." His career improved that much, therefore they wanted to transfer him to the capital. But he said: "I'm a pilot, I have to fly. I don't want to do office work." We went to Hamedan's base. There, Saeed was always working. He came back late at nights and left so early in the mornings. That same day he just came back from a long mission, his family were at our place. As he arrived, he hugged Amir Reza. He sat with us and drank tea. In the afternoon he went shopping with his father. They brought many boxes upstairs. A lot of food. He had bought lots of meat, cleaning powder, beans, oil, soup, shampoos. He bought a box of cereal for Amir Reza. He took all of it to the storage and put them up to the ceiling.
He took Amir Reza to the yard. I was cutting the meat, watching them through the window. He placed the newborn on a bicycle, teaching him how to ride. In that same day, he told my cousin who's also a pilot: "I think tomorrow will be my last flight. If something happens to me, I want you to tell my wife."
It was late afternoon, he came up and prayed. After that I brought dinner, I had made meat omelet. He taught me how. He learned it when he was student in America. First you fry the onion, then peel the tomato that you already had put it in the meat water. Then you add it to the meat and when it soaked with the tomato, you break the eggs on it. I brought dinner. Saeed looked sick, he wasn't ill but quiet. I thought he's tired, it wasn't unusual. So I didn't say anything. He had took his bath, put cologne and shaved as always, even he used the hairdryer. And went sleep on the sofa, that I called him for tea. He slept around twelve. I went to bed later, I had to sleep the baby first. But I remember he was rolling in bed until morning. I even think he was awake. Because when I woke up with the clock, he was already awake. He prayed, had a glass of milk, kissed the baby, and waited for the car. When he heard the car, he wore his uniform, boots. Everything so normal. I saw him through the window, he got on the car and left.
I lied down a little, I went to sleep. I didn't even hear the take off. Each time the plane took off, the whole house quaked. I woke up around seven. I made breakfast. I was waiting to hear the plane land, but I didn't hear anything. I started making lunch.
Leyla: I came home. The TV shows soldiers with red headbands, holding guns. My mom says don't sit so close to the TV, it's bad for your eyes. Our schoolmaster asks us to bring any kind of dry food to send front. Rice, oil, tea, sugar cubes and any possible thing. My mom puts some rice in a plastic bag for the soldiers. The bag in my hand is heavy. It tears and the rice spreads on the ground. The shop owners come to help, so we could collect some of it. One says: "What an idiot mom! She didn't give a stronger bag to the child." I felt so ashamed.
Mahnaz: My hands are in gloves, I just begun to wash Amir's clothes that they rang the door. I washed my hands and went to the door. I saw my cousin. When I saw him with uniform, I got shocked. He was so shy, he never came to our home without his wife. He asked for Saeed's father, then I understood. I said: "Has something happened to Saeed?" In that state I just had to believe whatever he said to me. He said: "Nothing happened, he is in hostel. You can call him." He came in with his boots and all the neighbors after him. Saeed's sister kept crying. Amir was shouting. my child was frightened. I called the base. I just said: "Get me Saeed, I want to talk to him." I couldn't understand anything, I just cried. Our house was so crowded. Everyone was trying to calm me down. Amir was crying and didn't stay with anyone. They just gave him to me. But I felt I didn't want my own child, so I returned him. Finally they made me go back to Shiraz. My cousin's wife turned off the oven and put all my clothes in a suitcase. I did not take any black dress with me. I was so sure that Saeed would be back. I felt fragile and wanted to vomit. They took us on the plane anyways. In the plane; pilots, stewards, everyone was crying. We arrived at Shiraz base, they took us home. It was the same at home.
At night the Iraqi's radio announced they hit the right eye of Ayatollah Khomeini. I didn't hear it myself, but people said their news announced they killed Iran's best pilot. They mentioned Saeed's name.
The people were coming and going, crying and moaning. I didn't know what's my child doing. My mother was taking care of him. Sometimes I pretended I was asleep and watched her. She was giving Amir juice with his bottle, crying silently. It took 10 days until a pilot came and said Saeed's plane was hit in Iraq. The co-pilot jumped with parachute and is in hostel. But Saeed crashed. They said: "We should make a grave. Give us his uniform to put it in his grave." I started to shout. Later I felt ashamed.
In the cemetery there was Air Force's orchestra. They played march, then the national anthem. That at the time was "The Islamic Republic is established". "The Islamic Republic is established, which is giving us the both worlds…"
People were just coming, no way to get passed. It was like they were his relatives and We were far away behind them. They brought his uniform, written his name on the breast, with two stars on the shoulders. They wanted to put it in the grave, I didn't let them. They started to say Prayers loudly. I saw them pouring soil in an empty grave. They just pour soil in an empty grave.
Shahla: We bring photos to school for fun. The students mostly collect photos of singers. They hide it under their forms. I am the best student so, the schoolmaster is nice to me. I'm told to check students bags before they enter. They don't have a problem with men's photos, especially footballers. I mostly collect footballer's photos: Roud Gulit, Phonbastin… Kazem Fereyduni. My cousin loves Persepolis. He gave me a poster of Kazem Fereyduni. I've hung it on my closet's door. It's written on it: "Persepolis!"
Mahnaz: I sat like a winding doll, people came and left. They forced me to eat. They held the 3rd day after death, 7th. In Shiraz they hold the 9th and 30th. They held the 3rd the 7th the 9th the 30th and the 40th. It was so horrible. Like your last breaths.
Leyla: In school they search our bags, because it's illegal to bring powder or lipstick. They look up our faces in the daylight to find out weather we shaved our girly mustaches or not. My sister and I go to the same school where it's near our house. My mom takes us to school and she comes after us in the noon. I feel ashamed. "Why do you come after me? Am I a child?" She agrees. But sometimes I still feel someone is walking behind me.
Mahnaz: After the 40th they called from the base, asked me to go and make a list of our households. I went to Hamedan with Saeed's brother and father. After Saeed, I've never been there. Everything was the same. All the food that Saeed had bought his last day was still in the storage. Dust everywhere, the ashtray was full of Saeed's cigarette filters. Saeed's shirt from his last shower was still hung in the bathroom. We cried and listed everything. His brother sat in Saeed's car, In those days he had a white Buick with leather lining. He rode the car and went to Shiraz with his father. I felt so horrible that I didn't take off my black mourning dress for two years.
Weitere Links
Die Journalistin Esther Slevogt hat für das Portal nachtkritik ein Interview mit Mahin Sadri geführt, das unter diesem Link nachgelesen werden kann.